Game News
Funcom announces mounts are finally coming to Conan Exiles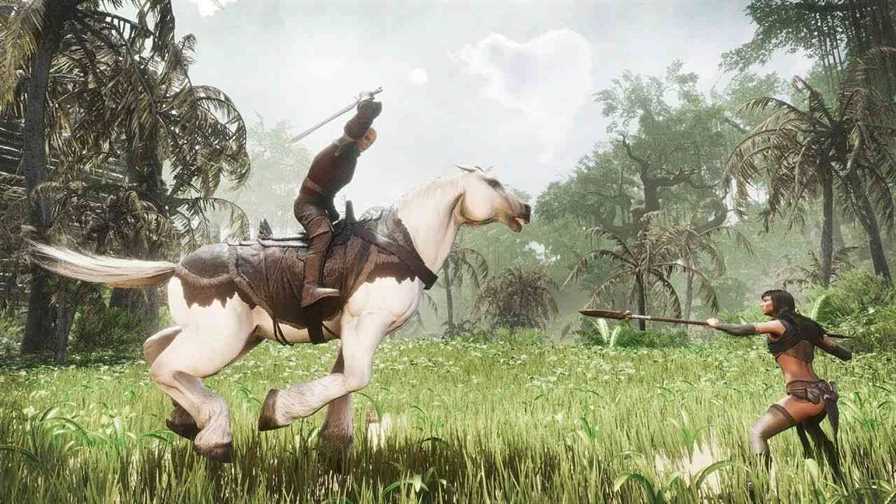 Ever since launch of Conan Exiles, players have craved for mounts to be added to The Exiled Lands. This December will see that desire come true. A free update will see all Exiles able to capture and train their own mounts, as well as a new pet leveling system and mounted combat. This means players will finally be able to charge into battle, wielding their sword high, driving their enemies before them!
Funcom announces mounts are finally coming to Conan Exiles
Conan Exiles Game Trailer Video
While the mount system will be free to everyone, a new DLC, Riders of Hyboria, will be released simultaneously for $9.99 / €9.99 and as part of the Year 2 Season Pass. This will offer a wider range of mounts and armor, though not any gameplay advantages. Both the free update and the DLC will be available on PC, Xbox One and PlayStation 4.
Funcom will reveal more information about mounts and the mount system in the weeks leading up to the release in December. Make sure to check out Conan Exiles on Steam, where it is 50% off this weekend, or the official Conan Exiles blog for the latest updates. The new addition to the game will also be showcased at TwitchCon (Sept. 27th – Sept. 29th), where players can come see for themselves.
Conan Exiles is an open world survival game, set in the savage lands of Conan the Barbarian. The game launched in full on PC, Xbox One and PlayStation 4 on May 8th, 2018, and quickly became Funcom's best-selling game ever. Riders of Hyboria will be the 9th DLC since launch. The game has also had a host of free updates, containing new lands to explore, more end-game content, building pieces, bug fixes and performance improvements.