Insomniac Games gives Marvel's Spider-Man owners the Spider-Man costume from Sam Raimi's Spider-Man. Spider-Man fans wanted the costumes used in Spider-Man movies to be included in the PS4 exclusive game Marvel's Spider-Man from Insomniac Games. Insomniac Games, who could not reject these requests, presented the Spider-Man costume to the Marvel's Spider-Man players, which were used in the Sam Raimi films as a gift for the new year and Christmas.
Christmas surprise from Insomniac Games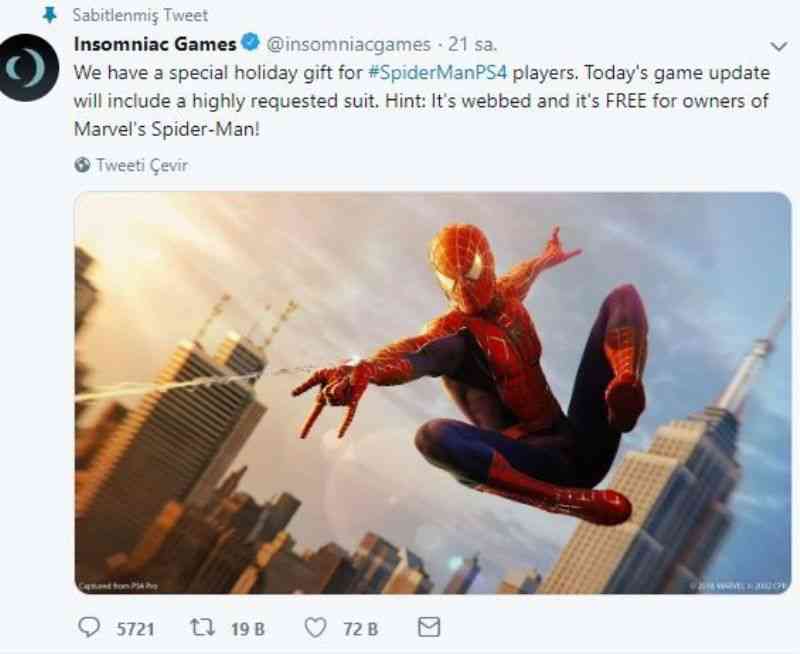 Marvel's Spider-Man, developed exclusively for PlayStation 4, has received great feedback from the players. With the games developed in the action platform genre, Insomniac Games was developing Marvel's Spider-Man for PlayStation 4 after developing Sunset Overdrive on Xbox One. The company which developed Ratchet & Clank, Spyro the Dragon, and Resistance, succeeded to develop the fastest-selling game on PS4 with Marvel's Spider-Man. Marvel's Spider-Man has a lot of costumes available to players. Each costume has its own feature Spider-Man can use. Marvel's Spider-Man was released on September 7th, 2018.