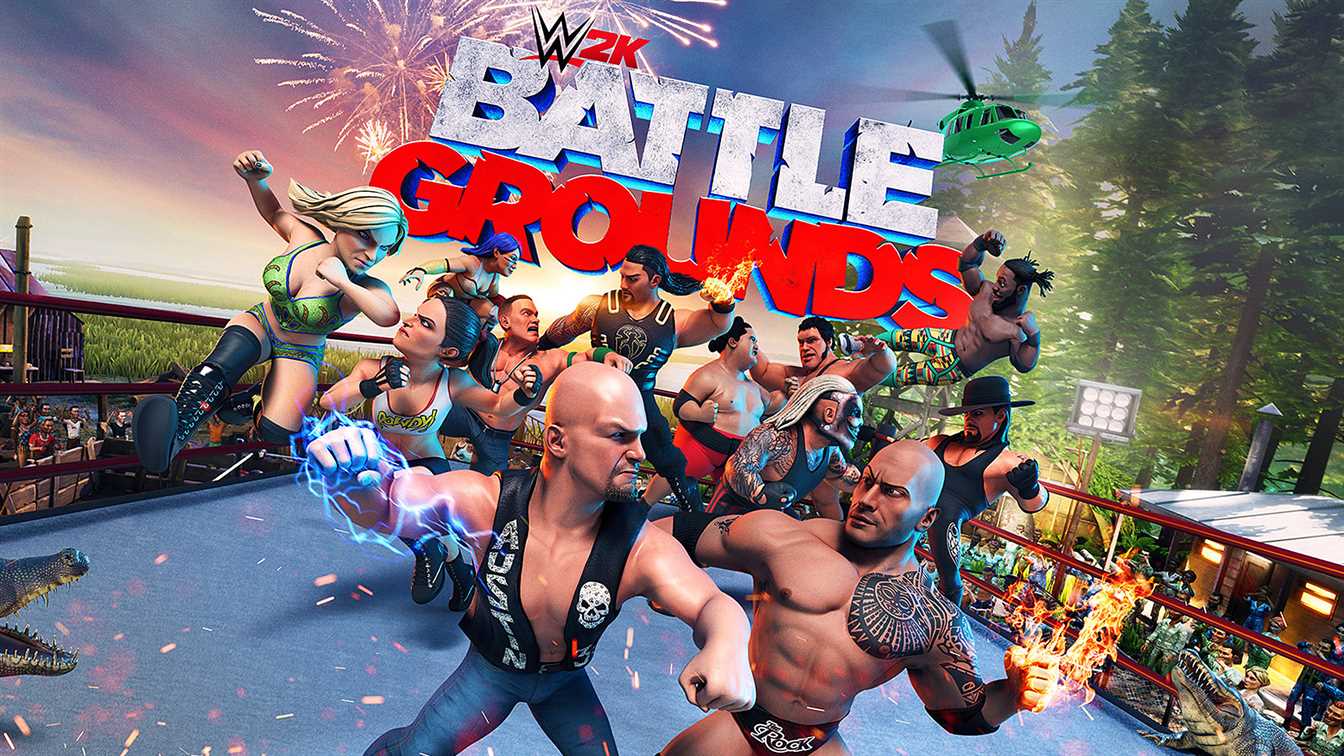 Saber Interactive which we know from Crysis Remastered is the developer of the WWE 2K Battlegrounds. It is an arcade-style fighting game, it has unrealistic and as designed a combat simulation. I can say that it is cool to amuse yourself for a few hours. However, this game has some negative features. Let's check the details in our WWE 2K Battlegrounds review.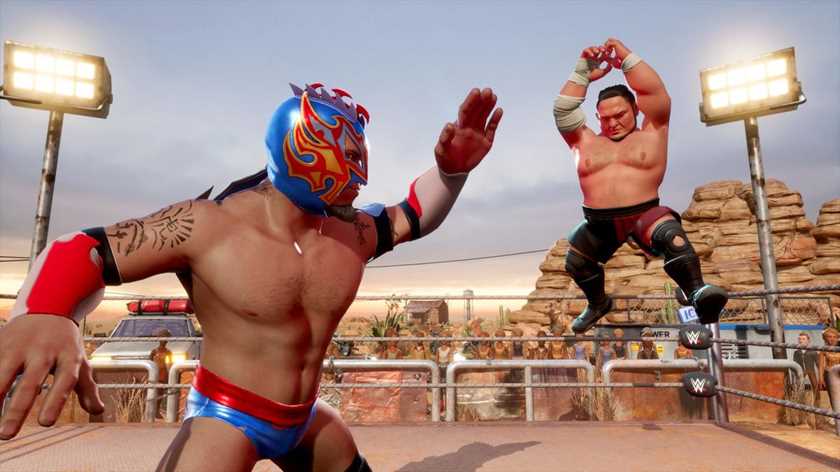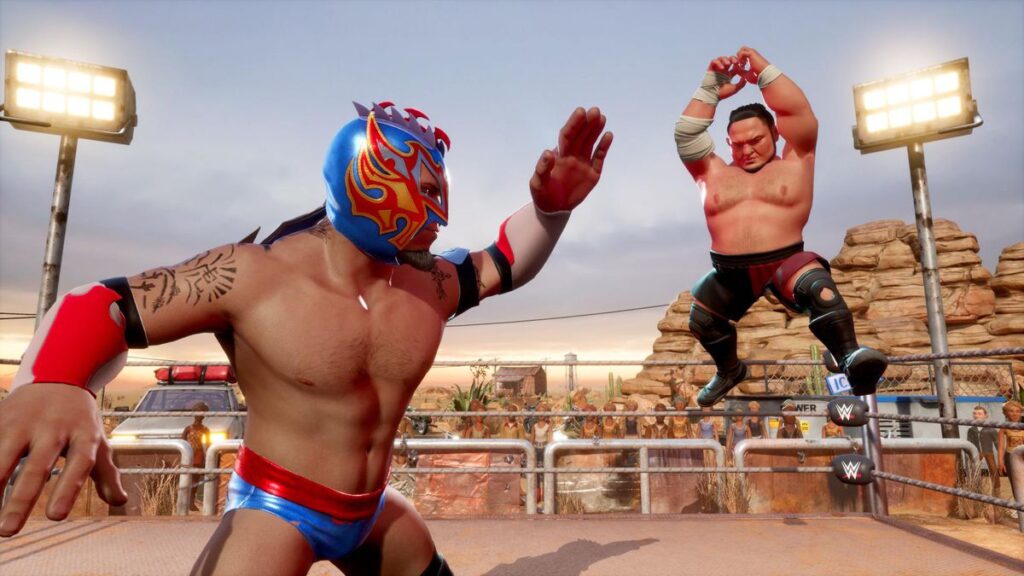 WWE 2K Battlegrounds Review
As I said, this game makes you relaxed. Anyone who has watched WWE Smackdown at least one time, s/he easily will like this game's mechanics. More importantly, it is far from reality in the way of gameplay and graphics. So, the game absorbs you while playing it. The story mode of the game is nice. You opt into the plot by turning over the comic books' pages.
The key mechanic within the game is repeating of this: beat, progress, get a reward and again beat, progress, etc. Not only does the game narrate the story, but also new things happen in every breaking points of the story. Meanwhile, you go on repeating the rhythm of the game: beat and progress. To give an example this breaking points; the first character goes to Mexico and leaves the game after a while. Then, you try to rise another character to Superstar Leauge. In the meantime, Steve Austin (aka Stone Cold) accompany you while training the kites. The story directs you to change your character because you learn different wrestlers.
Different Classes
There are five classes such as Brawler, High Flyer, All-Rounder, Technician, Powerhouse. Each of the five classes has some differences. For example, Brawlers is a good class for using weapons and masters of striking. They have good health and stamina. Even though they are not the best in speed or grappling, they are good at using whatever they find lying around. High Flyer wrestlers are more athletic and have more Stamina than other classes. Technician wrestlers are specialized in using techniques, submissions, throws and reversals and they are pretty good for the ring. Powerhouse class is the strongest class while All-rounder class is very versatile and balanced in all skill categories. The Crowd Bar will fill faster than other classes.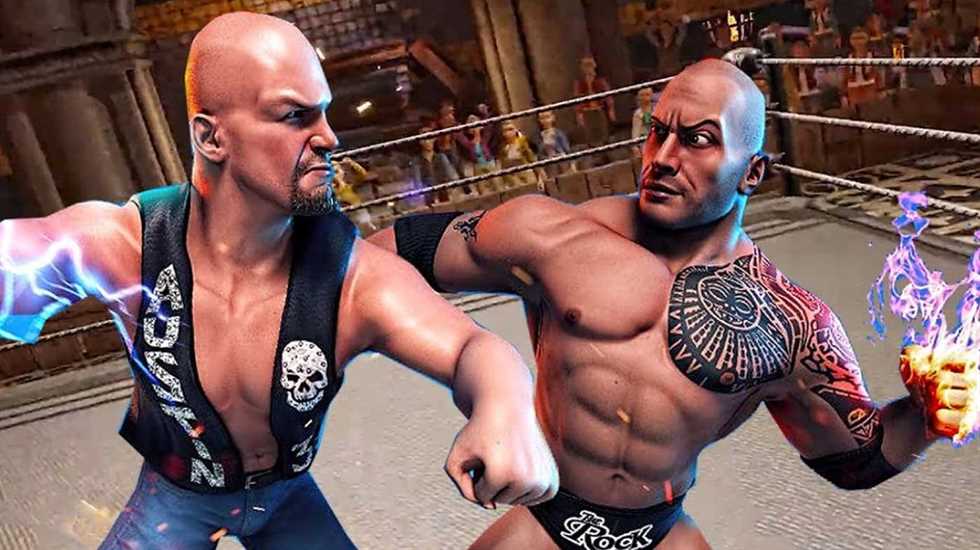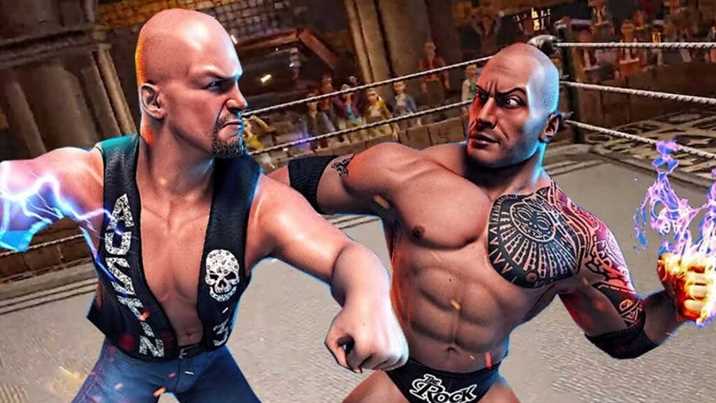 I realised the good feature of the game in the first modes. The game has a though hit sense. I can say I felt all the hits even without the controller's vibration. I think this sense makes the game more catchy. Miniature characters on the screen strike at each other and we feel these hits physically while playing. Another thing, your rival becomes tired and overwhelmed and you can see this. The rival's The Health Bar and The Stamina Bar decrease after fighting. You can feel your rival's tiredness, it is a cool detail. If the rival's durability stayed stable despite lots of beats, it wouldn't make sense. So, the consistency and balance of the game are good.
Even though the gameplay is good, but I had some animation lags while I'm writing my WWE 2K Battlegrounds Review. Fighting animations may become irritating because animations during the combat may fail. Also, the game sometimes sticks while playing. These technical flaws can be fixed with an update. If you complete or get bored this campaign mode, there are different options for you. You can attend the online tournament or challenge against others on King of The Battlegrounds. King of The Battleground Mode is a well-known game mode between the players of fighting games. What you need is to match and combine with the others. You should become the Last Man or Woman Standing by getting the best score. The longer stay inside the arena for as long as possible, the higher your score will be within the match.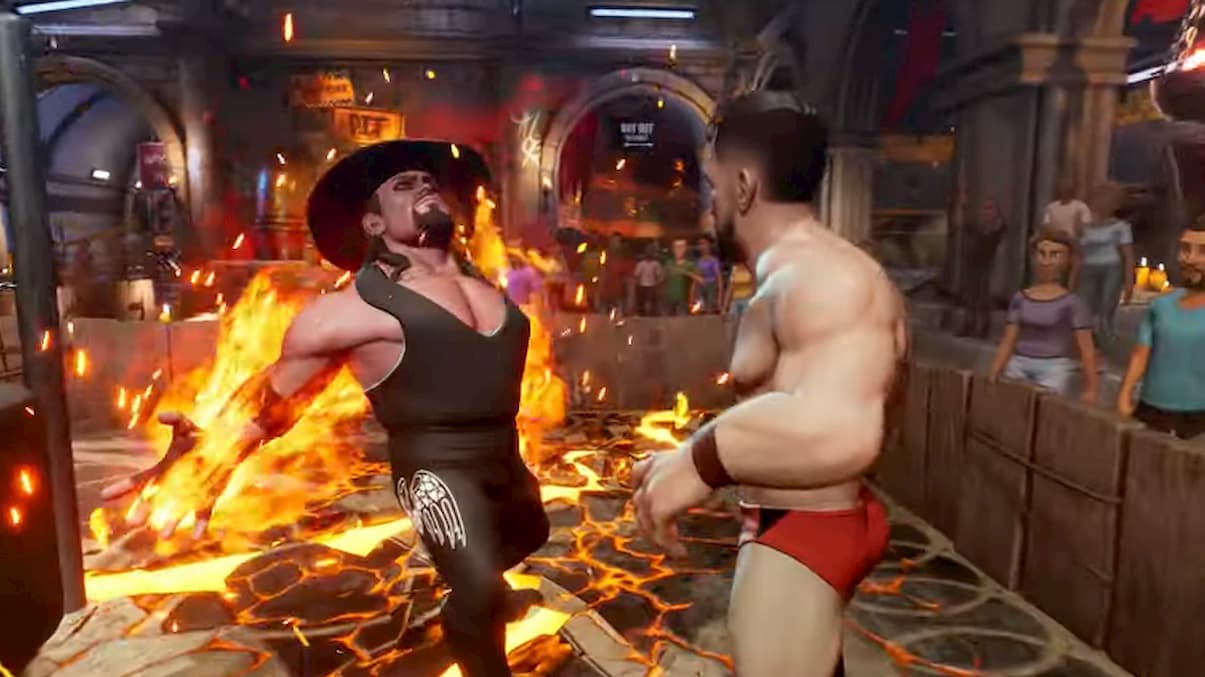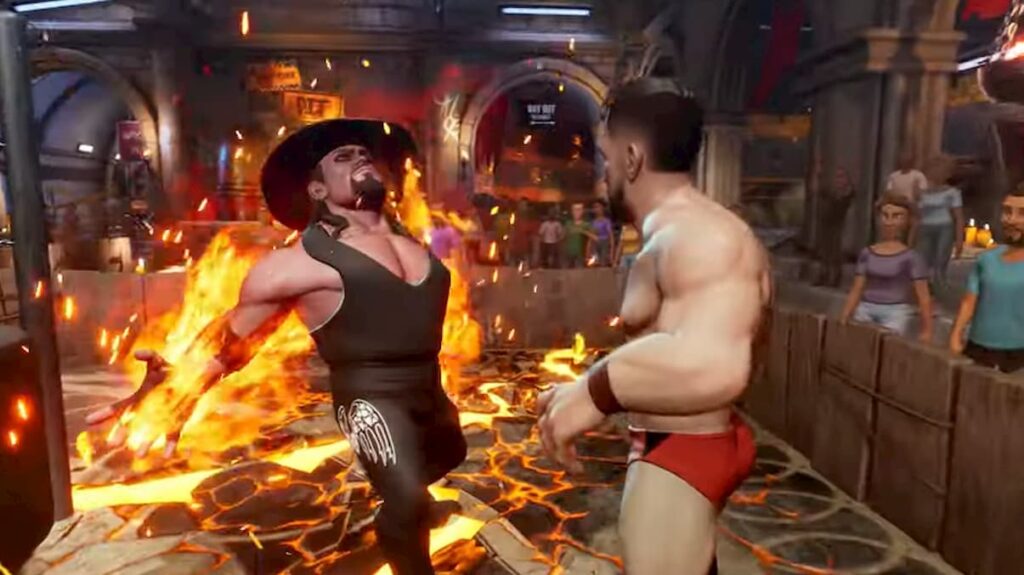 You Can't See Me!
Also, you can find offline modes in Exhibition mode which is the ideal place to train yourself with different game types. You can learn types of modes and then you can practise them in campaign mode. Plus, you can customize wrestler in the game. On the Character Editor screen, there are types of wrestlers I mentioned above. In the process of customization, you need to know what do you want to be. Also, you can use quick settings, even if you choose it you can customize the character's some details by yourself. Then, you can add tattoos, clothes and accessories.
Moreover, you can add some drop pods such as coffins, trash cans, and disco ball pods for arena customization, instead of walking into the arena. Some customization features are locked. Within the game, there are two in-game currencies, so you can unlock the things you want. You don't need to use real-life currency, you can use in-game currencies to speed up the process.
Furthermore, you can create battleground arenas through the Battleground Creator. You can decide an arena's general theme, as well as adding ring mat, floor, apron, barricade, ropes, turnbuckles, ring posts, lighting and more. The most amusing detail in this process is to decide in-game songs. So, you can listen to them within the matches. These customization details are more costly than creating a character. Even though there are quick settings for free, more pretentious options need to pay money. You need to complete at least the story mode and get awards to pay your customization.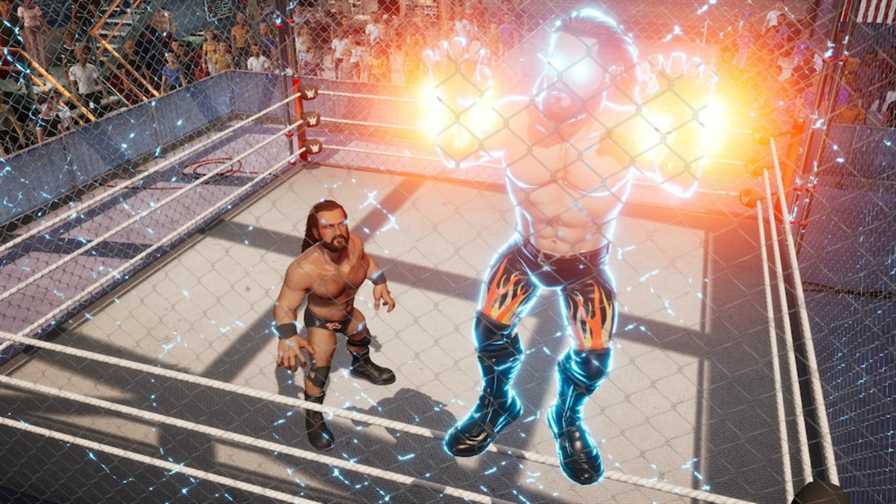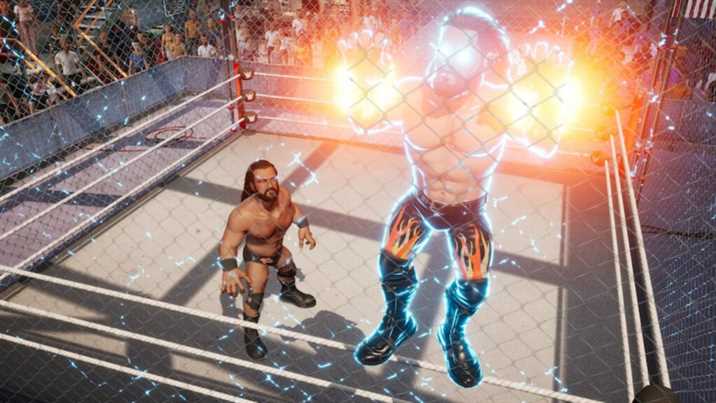 After creating a character, you can play in offline Battleground Challenge mode. It resembles the story mode, the main aim is to accelerate your character's power and to improve his/her skills. You start with 60 points and it increases as you fight and get rewards. Also, as you fight the game says you to progress well. Some famous wrestler like Rey Mysterio, The Undertaker, Big Show can join you in both story mode and other modes of the game.
Conclusion
If you enjoy challenging with your friends, family or any online player; this game will entertain you. Even though the game has linear gameplay, you may be not bored while playing. If so, you can purchase the game.