Game News
Diablo: Immortal Breaks a Record Before It's Release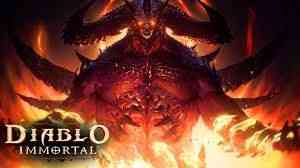 Blizzcon 2018's last announcement, Diablo: Immortal has fallen under severe negative criticism by it's fans. The players had been waiting for the announcement of either Diablo 4 or a Diablo 2 Remake but instead were delivered a game for the mobile platform and the game broke a record before it was even released. Apparently, Diablo Immortal's Youtube video is currently the world's third most disliked video on the site along with being the most disliked video of 2018. At this rate, it might even leave the trailer for Call of Duty: Infinite Warfare in the dust.
Video of Diablo Immortal became the most disliked video of 2018
There is not a clear reason to this amount of hate by the players towards Diablo Immortal. Even though, due to the game being on a mobile platform, a large portion of players is at odds with Blizzard, some will still have to play the game as it explains an important story taking place between the events of Diablo 2 and 3.
Will Blizzard, having confirmed now they are working on multiple other mobile games be able to change the opinions of it's fans about Diablo Immortal?