Game News
Dying Light 2 System Requirements Have Been Revealed
Dying Light 2 system requirements have finally been revealed. Techland has published a table of system requirements for Dying Light 2: Stay Human, which will be released in February, together with the official statement it made in the past few minutes. When we look at this table, we see that the company has published a list in the form of four different categories. Of course, according to Ray Tracing technology, there are differences in the system requirements of the game.
Dying Light 2 System Requirements
When we look at the published table, besides the classically minimum and recommended system requirements, we see the minimum and recommended requirements for Ray Tracing support, as we have seen frequently recently. While the GTX 1050 and RX 540 models are sufficient on the low side, we also see that the game wants a high-end card like the RTX 3080 if you want to play with Ray Tracing technology and get at least 60 FPS.
The 20 series RTX graphics cards, on the other hand, will apparently be able to meet the minimum requirements on the Ray Tracing side. Of course, we can think that the 60 FPS limit can be exceeded in cards such as 2070, 2080, with small changes to be made. The system requirements of the game are as follows;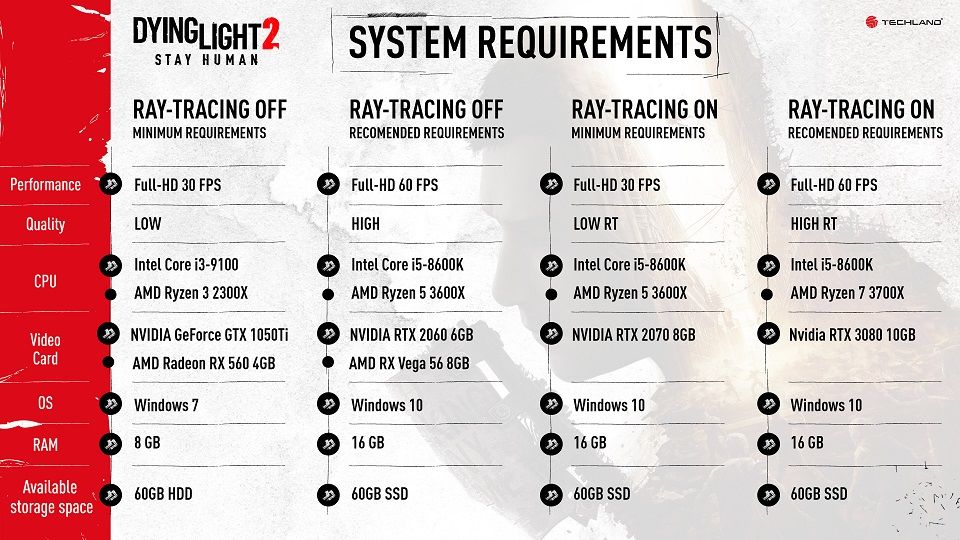 Dying Light 2 Minimum System Requirement (Ray Tracing Off)
Target: 1080P / 30FPS
Processor: Intel Core i3-9100 / AMD Ryzen 3 2300X
RAM: 8GB
Graphics Card: NVIDIA GeForce GTX 1050 Ti / AMD Radeon RX 560 (4GB VRAM)
Operating System: Windows 7
Harddisk Space: 60GB HDD
Dying Light 2 Recommended System Requirements (Ray Tracing Off):
Target: 1080P / 60FPS
Processor: Intel Core i5-8600K / AMD Ryzen 5 3600X
RAM: 16GB
Graphics Card: NVIDIA GeForce RTX 2060 6GB / AMD Radeon RX Vega 56 8GB
Operating System: Windows 10
Harddisk Space: 60GB SSD
Dying Light 2 Minimum System Requirements (Ray Tracing On)
Target: RTX Açıkken 1080P / 30FPS
Processor: Intel Core i5-8600K / AMD Ryzen 5 3600X
RAM: 16GB
Graphics Card: NVIDIA GeForce RTX 2070 8GB
Operating System: Windows 10
Harddisk Space: 60GB SSD
Dying Light 2 Recommended System Requirements (Ray Tracing On)
Target: RTX Açıkken 1080P / 60FPS
Processor: Intel Core i5-8600K / AMD Ryzen 7 3700X
RAM: 16GB
Graphics Card: NVIDIA GeForce RTX 3080 10GB
Operating System: Windows 10
Harddisk Space: 60GB SDD