Intel's next-generation LGA-18xx socket, which has recently started to accelerate new technologies, has emerged. It looks like this socket will be the same size as the LGA-17xx series.
Work on Intel's new processors and sockets that will be specially designed for these processors are carried out in great secrecy. However, no matter how much attention is paid, new leaks continue to come.
Famous for his consistent leaks about processors, Twitter user "momomo_us" shared the image of the socket produced for Intel's next-generation processors.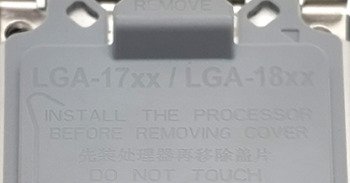 Intel LGA-18xx series may resemble the 17xx series
According to the shared image, this socket will support processors in the LGA-17xx series and LGA-18xx series. Accordingly, LGA-18xx series processors will be rectangular, just like the 17xx series. It is not yet clear when exactly we will see this processor socket in action. It was announced that the 18xx series socket, which has not yet been released, will be compatible with both 12th generation "Alder Lake" and AMD's "Raptor Lake" processors.
If we look at the claims made, the next-generation "Meteor Lake" processors will also have an extra 500 pins compared to the previous generation. It is claimed that Meteor Lake processors will aim to increase performance thanks to these extra pins. If the Meteor Lake processors, which will be Intel's first 7nm product, are produced according to LGA-17xx sockets, we will be able to see LGA-18xx sockets and processors suitable for these sockets in 2023 at the earliest.
Although there is no clear information on this subject at the moment, more information is expected to come to light in the future. Stay tuned to be informed about the upcoming developments.