Game News
London Games Festival 2022 takes over Trafalgar Square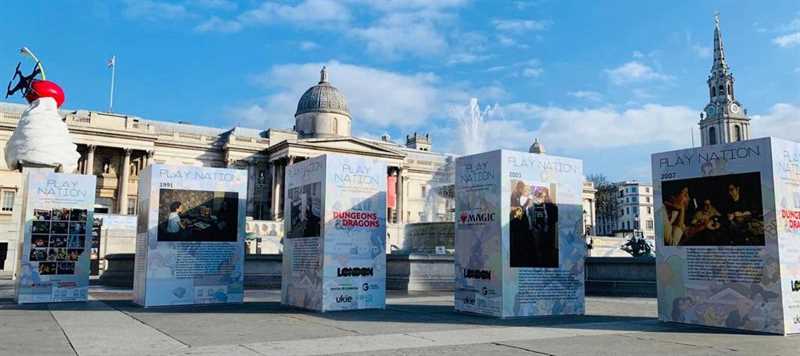 The annual 10-day London Games Festival 2022 returns to the capital today, with a number of consumer and business events taking place across the city and online.
London Games Festival 2022 takes over Trafalgar Square as City-wide celebretions begin today
Supported by the Mayor of London, and leading partners across the games industry, players can expect to enjoy a number of physical events including a three-day Trafalgar Square takeover, brand new consumer gaming event W.A.S.D, and returning cultural heavyweights including Now Play This at Somerset House, and the BAFTA Games Awards. In addition, for the first time ever, players across the globe can enjoy hands-on time with a number of the festival's Official Selection games.
The business of gaming continues to take centre stage at the festival, and the significance of the UK games industry was further highlighted this week as industry governing body Ukie issued its annual UK Consumer Games Market Valuation, revealing the UK video games market reached a record high of £7.16bn in 2021.
The Mayor of London, Sadiq Khan, said: "I'm delighted that the London Games Festival 2022 returns to our city this month, with an exhibition in Trafalgar Square at the heart of the celebrations. The games industry is thriving, bringing significant investment and jobs to our capital. The festival is a brilliant showcase for the industry, shining a spotlight on the innovative start-ups and promoting opportunities for Black, Asian and minority ethnic talent. It shows yet again why London is a leading global city for business and innovation."
The festival's opening weekend highlights include…
TRAFALGAR SQUARE TAKEOVER
This special three-day Trafalgar Square takeover, from 1st-3rd April, showcases the diversity and creativity the UK games industry has to offer, along with a look at its incredible history. Highlights detailed below include Ensemble, Play Nation, Virtual Photography Showcase, and the Official Selection.
ENSEMBLE
Games London's acclaimed exhibition celebrating the efforts of games developers from Black, Asian and underrepresented ethnicities returns with a cohort of eight new talents. Striking portraits and captivating profiles detail the achievements of Adam Campbell, Haroon Thantrey, Jay-Ann Lopez, Jay Shin, John Lau, Leah Muwanga-Magoye, Lili Ibrahim and Taiwo Omisore. This exhibition will then tour other UK locations – starting with one of next weekend's tentpole LGF events, W.A.S.D. at Tobacco Dock (Thursday 7 April to Saturday 9 April).
PLAY NATION (at Trafalgar Square)
Curated by the LGF team, Play Nation is a brand new exhibition drawing together unique and previously unseen archive pictures to tell the history of games in the UK from the point of view of the players themselves. Starting at an East London arcade and then moving via the dining rooms tables that hosted tabletop games, and even a church in Wales – these striking pictures charts how UK citizens have loved games for the last 40+ years.
VIRTUAL PHOTOGRAPHY SHOWCASE  (at Trafalgar Square and online)
A unique showcase of in-game artworks created by players around the world and delivered in partnership with community site The Fourth Focus' VP Awards and supported by NVIDIA Studio, the platform that supercharges the creative process for artists. The Virtual Photography Showcase puts in-game virtual photo artworks out in the real world – with exciting, emotional and eye-catching work produced in some of the world's best-selling games. The exhibition is the jumping-off point for a brand new London Games Festival Virtual Photo Challenge, which runs until Wednesday 6 April. Budding artists looking to become the next Virtual Photographer of the Year can also win a NVIDIA RTX Studio Laptop worth over £3000. Head to games.london/2022vpchallenge/ for details on how to enter.
OFFICIAL SELECTION  (at Trafalgar Square and online)
Supported by Fireshine Games
Also on the Square is a special showcase promoting the 33 games in this year's London Games Festival Official Selection. Dedicated artwork and images from each game are on show, supporting the online showcase of games which can be found at showcase.games.london. Also on show is a special set of art from the upcoming game Silt which was originally signed at London Games Festival in 2019 – and is now set for release from publisher Fireshine Games later this month.
The wider London Games Festival 2022 runs 1 April to 10 April as a hybrid event with activity taking place online and in-person. For full listings head to www.games.london/#whatson
London Games Festival is supported by the Mayor of London. It is delivered by Games London,an initiative from Film London, the capital's screen industries agency, and video games trade body Ukie (The Association for UK Interactive Entertainment).
Microsoft Azure and Gamestream are platinum partners supporting the festival. Associate Partners include Curve Games, Coutts, Taylor Wessing, PlayStation, Wizards of the Coast, Nvidia Studio and Sharkmob, plus Festival Partners Kinda Brave, Fireshine Games and Making Moves.
Overall, the online London Games Festival 2022 is now set to include over 600 businesses across all its programming, making for its biggest showing since the festival started as a physical event in 2016.