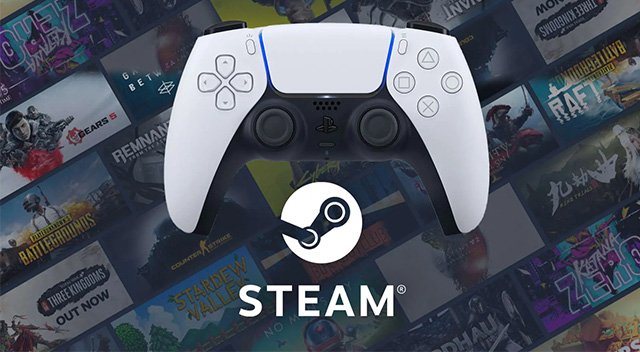 Valve, the name behind the digital distribution platform Steam, announced the addition of PlayStation 5 controller support to its Steam Input API. In the announcement made by Valve, "full support has been added for LED, touchpad, vibration and gyroscope features" expressions were used. The PlayStation 5 DualSense controller can now useable on Steam. The Steam Team posted an announcement. So, announced that PlayStation 5 controller support has added to the Steam Input API.
In the announcement, Steam stated that full support has added for LED, touchpad, vibration, and gyroscope features. So, players can configure for use in Death Stranding, No Man's Sky, Horizon Zero Dawn, and other games. Also, this support will available to all players using the public Steam desktop client beta. Furthermore, said that after the test, it will available to everyone across the platform.

The Number Of People Playing Games With PlayStation 5 Controller On Steam Is Increasing Day By Day:
The Steam Input API, we knew as a tool that allows players to easily plugin, operate, and remap. Almost any controller with a supported Steam game. In their update note to developers, Valve notes that "millions" of players use a controller every day on Steam. "In controller-friendly games, the percentage of players for that game that uses a controller can easily be 60% or higher". So, they say, continuing that. "Some games, such as skateboarding games, have well over 90% of their players using controllers in-game."
At this point, the increase in controller usage is even higher among PlayStation controller users. So much so that Valve says that gaming sessions with the PlayStation controller across Steam in the past two years have increased from 10.9% to 21.6%. The Steam Input API already supports over 200 input devices. Also, including the PlayStation 4 controller, Nintendo Switch Pro controller, fight sticks, steering sets, dance pads, and almost any other controller imaginable.
Finally, according to Far Cry 6 Game Design Director Ted Timmins, the Sony brand on the back of the DualSense is not located right in the middle of the controller for PlayStation 5. Timmins stated that the Sony inscription located under the USB port stands 1 mm to the left of the center of the remote.