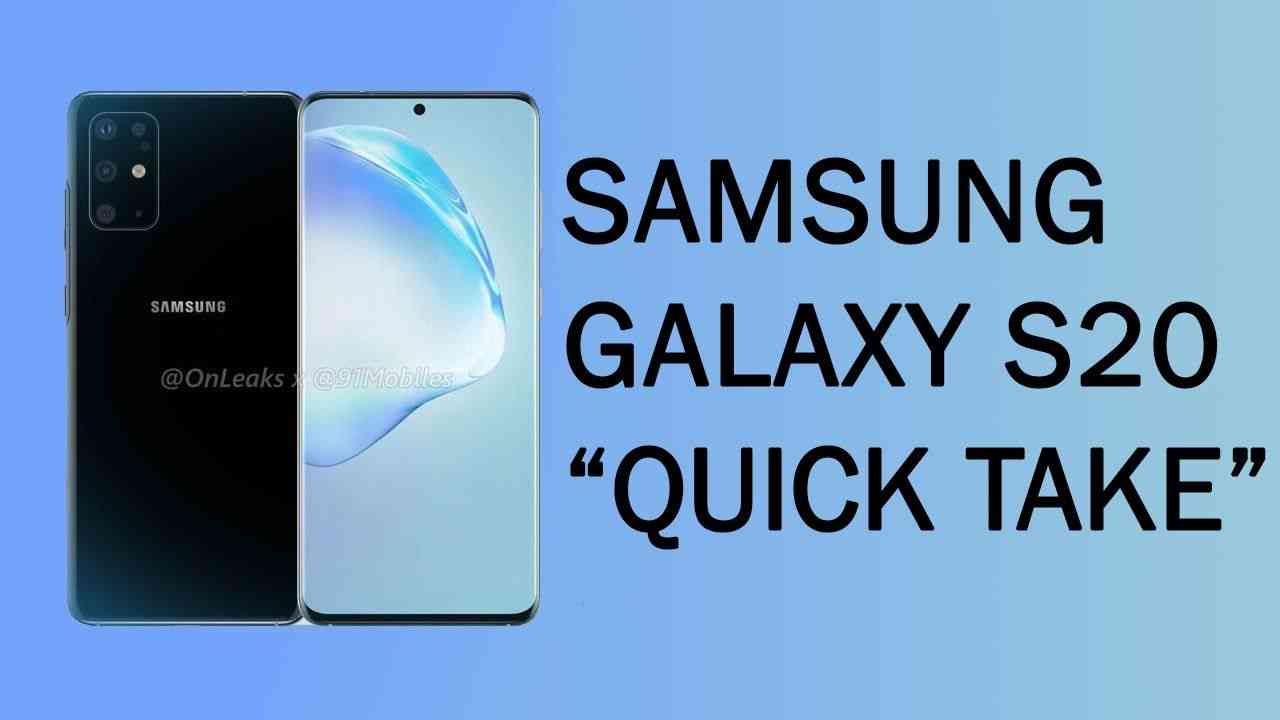 Samsung Galaxy S20 "Quick Take" feature revealed. A new handy camera feature has emerged for the Samsung Galaxy S20 series. The release date of the Samsung Galaxy S20 is soo close. There is little left for the family that attracts attention.
Galaxy S20, Galaxy S20 Plus, and Galaxy S20 Ultra models will be launched on February 11. Every day we are getting new information pieces. The newest of these details about the camera.
As far as it is said, there is a feature called "Quick Take" in the Galaxy S20 series. With the "Quick Take" feature, you can take photos using all rear cameras with a single click. After you enable this feature from the menus, you'll be able to take various photo formats by pressing the capture button. But this time your device will save it to your storage in from all three cameras simultaneously. It is possible for people to record the moment they capture as wide-angle, ultra-wide-angle and telephoto with a single touch.
Samsung Galaxy S20 will be the best selling model of the series
Let's look at the technical specs of the Samsung Galaxy S20, closer. At the bottom, the Galaxy S20, as far as we know, has a 6.2-inch 3200 × 1440 pixels Dynamic AMOLED 120 Hz display. Depending on where it is sold, the phone is powered by the Exynos 990 / Snapdragon 865 processor with 12 GB of RAM. The phone, which has a 4,000 mAh battery and can increase the basic internal storage amount of 128 GB by 1 TB with microSD, weighs 164 grams. On the viewing side, there is a 10-megapixel camera in front of the model. At the rear, 12-megapixel wide-angle + 64-megapixel telephoto + 12-megapixel ultra-wide-angle cameras come together. The Galaxy S20, which can shoot 4K 60 fps video with its front camera, is said to be able to reach 8K 30 fps at the back. It is reported that this device offers 3x optical and 30x digital zoom.
Samsung would have focused on Galaxy S20, S20 + and S20 Ultra for its new range of smartphones, this year. The standard model would simply be called S20 instead of S11 Lite. The large-format variant would simply be called S20+. The ultra-high-end version would be named as Galaxy S20 Ultra. Samsung has therefore decided to shake up its habits, probably to do a bit like its rival Apple.
You can find Samsung Galaxy S20 price, tech specs and colors in our article. Also, we will see all the latest news about the product at the Galaxy Unpacked Event.