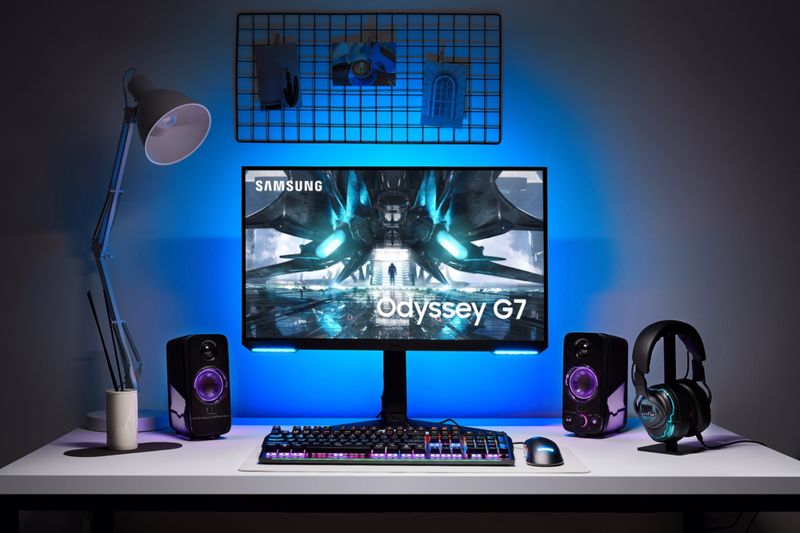 New members added to the Samsung Odyssey series monitors developed for gamers. Updating the G3, G5, and G7 models, Samsung promises to offer players a unique experience. Samsung's new monitors will be available later in the day.
Announcing its new smartphone called Galaxy M32 in the past hours, Samsung has now introduced new player monitors. Explaining that the Samsung Odyssey series has updated the G3, G5, and G7 models within the scope of this promotion, the company states that a much more impressive experience will be offered to the players. So what do Samsung's new gaming monitors promise to gamers?
Samsung Odyssey's new monitors have flat panels and are versatile to use. The company even states that these models can be purchased together and combined. Sizes ranging from 24 inches to 28 inches, high refresh rates, and standard latency of 1 ms seem to offer gamers a smooth experience. Moreover, all three models support AMD's FreeSync technology, while the G5 and G7 also feature NVIDIA G-SYNC technology.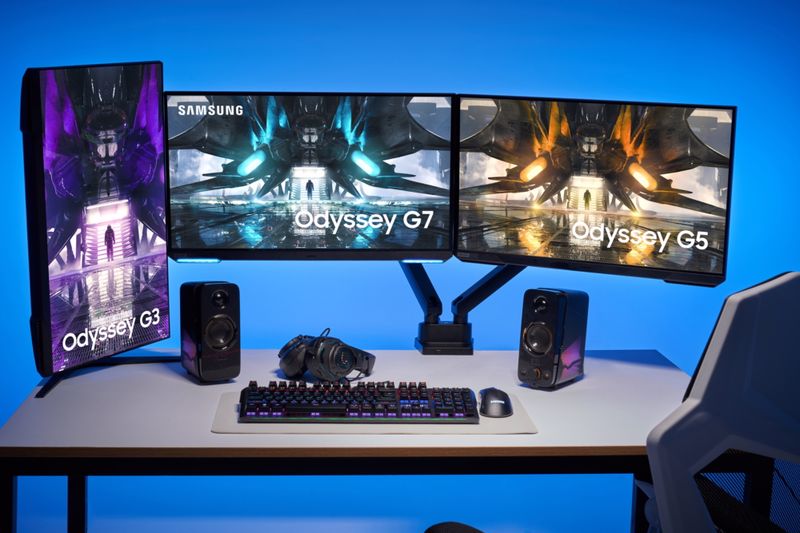 Samsung Odyssey 2021 Unveiled New Gaming Monitor Lineup
The Odyssey G7, which stands out with its 28-inch size. It is the most powerful gaming monitor in the Samsung Odyssey series. NVIDIA G-SYNC support combined with a 144Hz refresh rate, 1ms latency, and 4K resolution can make anyone using this monitor addicted to gaming. The HDMI 2.1 support of the monitor makes this gaming monitor compatible with next-generation game consoles. Console owners will be able to experience a 4K 120 Hz display with this connection option.
When we look at the features of the Samsung Odyssey G5, we see a QHD resolution with a refresh rate of 165 Hz. The monitor, which has a latency of 1 ms, offers an experience that will impress users with both AMD FreeSync and NVIDIA G-SYNC technology. Samsung states that this monitor is the first model in the Odyssey series to have HDR10 support. The monitor, which comes with a height-adjustable stand, allows gamers to have the most personalized experience. Finally, let's say that you can choose a 27-inch size for this monitor.
The Samsung Odyssey G3 is available in 24 or 27-inch sizes. FHD resolution, 144 Hz refresh rate, and 1 ms latency make this monitor ideal for everyone. Supporting AMD FreeSync technology, the monitor also prevents possible image tearing problems. Just like the Samsung Odyssey G5, the Odyssey G3 also has a height-adjustable stand.
Samsung did not make a statement about the prices of the next-generation monitors it prepared for gamers. However, these monitors will be available in global markets later in the day. As a result, the prices of the products will be announced in a few hours. The monitors, which have very powerful features, seem to be among the favorites of players with high purchasing power.