Game News
Steam released a report about controllers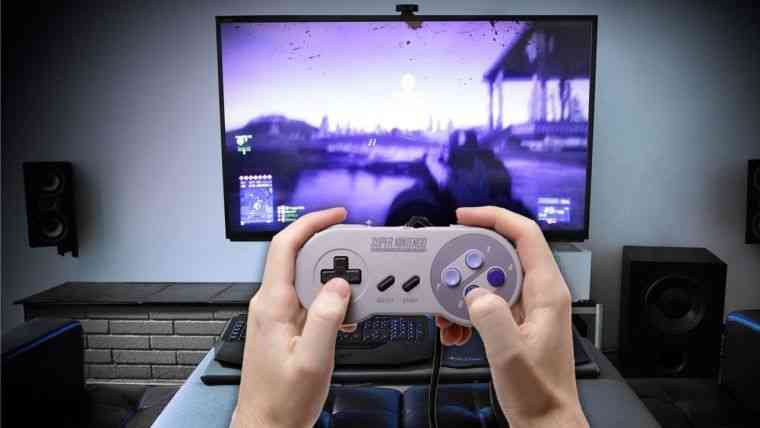 Steam recently released a report on controllers and the habits of players used on the system. When we look at this report we see both interesting and very informative details. The most psychopathic information in this report is undoubtedly the fact that around 200,000 players are using SNES controllers on Steam. The most commonly used controller in the same report is still the Xbox 360 controller. All of this report published on Steam is as follows;
Playing computer games with a controller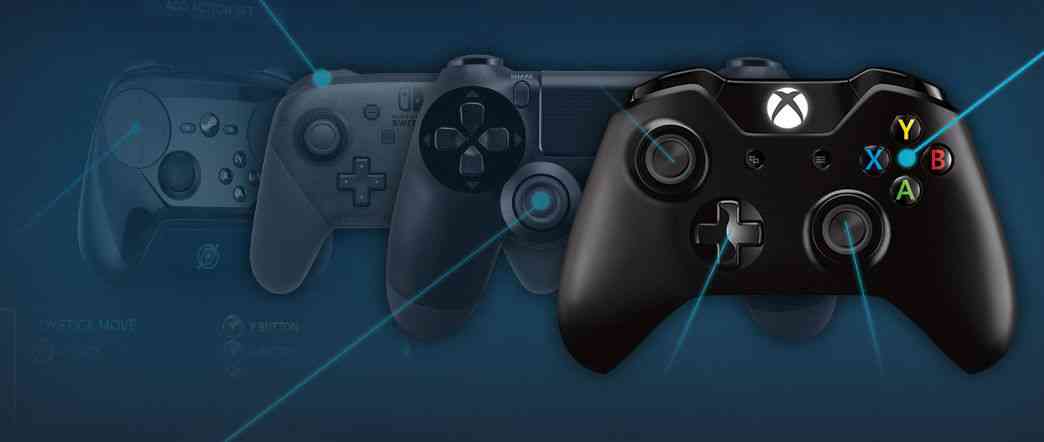 Controller compatibility for computer games was formerly managed by game developers. In other words, a game was supporting certain equipment and players could only make their preferences within these specific options. We started our experiments about what results will be revealed when the restrictions on the community are reduced in 2015. We've released tools that makes Steam users be able to assign controls to various types of devices (such as Steam Controller, PlayStation controllers, Xbox controllers, etc.) that they wish to assign to any desired input device (such as keyboard keys, mouse movement, control key presses, etc.). We have also created a system in which these controller configurations can be shared and modified, where the best input schemes are shown at the top, so that everyone can benefit from the efforts of the community together. These two features (key assignment and sharing) today laid the foundations of what we call Steam Input.
Three years later, the Steam Input experiment began to conceive interesting results. As a result of the support for many types of controllers, we have learned information about which controllers are used on the platform and how players play the different type of games as a result of allowing personalization. Today we will share with you the statistical information such as which controllers are used to Steam, how the controllers are used and what happens when a new controller comes on the platform. We'll also talk about how the Steam Controller and hardware selection distinguish it from other types of controllers.
Controllers on Steam
The first outstanding data is that many players on Steam have a controller. Since 2015, more than 30 million players have at least one controller and more than 15 million of them have used more than one controller. When we look at the accounts that have multiple controllers and are saved to more than one account, we see that there are a total of 60 million device-account associations connected to Steam. The table below shows the distribution of the controller types.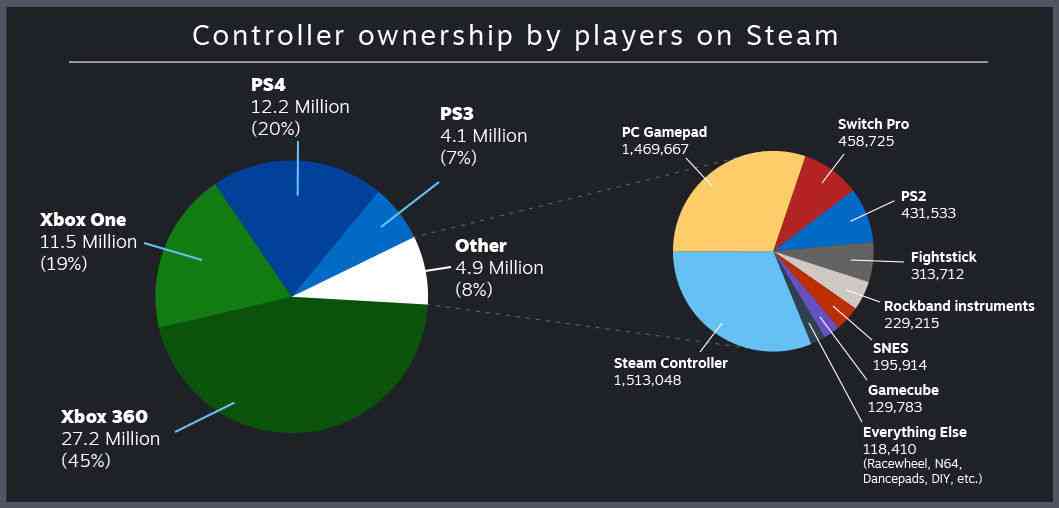 Most of the devices are console controllers, but the remaining 8% is very important. This slice corresponds to about 5 million controllers. This group includes Steam Controllers, PC game controllers, Nintendo controllers and fighting sticks (and 783 dance cushion). These wide and different types of input devices sometimes require intensive user effort to connect to the computer. There is a lot to be drawn from the numbers, but when combined with game time data, we see a few interesting conclusions.
Most Xbox controllers are used on computers
Xbox controllers for computer games are pretty much the default controller. You can also see this clearly in controller statistics. About 40 million Xbox 360 and Xbox One controllers are connected to Steam. This makes the %64 of all controllers. How did Xbox controllers become the default controller? Ten years ago, Microsoft made a great effort to make XInput protocol to be adopted, which resulted in great support from the game developers. Because local support is largely XInput support, the Xbox controller was the best choice for many different games to run smoothly.
The number of PS4 controllers is surprisingly high
The PlayStation 4 is an extremely popular console with a great controller. The reason for the 12 million to surprise us is that in the past, PS4 controllers were not treated as computer game controllers. The use of local support is not common, so players use softwares that converts PS4 controller entries into an Xbox controller entry. This situation has a few drawbacks. For example, when a game says "press Y to jump," you need to press your triangle key. This kind of translations you should do can prevent the PS4 controller from being preferred by users, and we see that this happens when we look at the monthly game time data.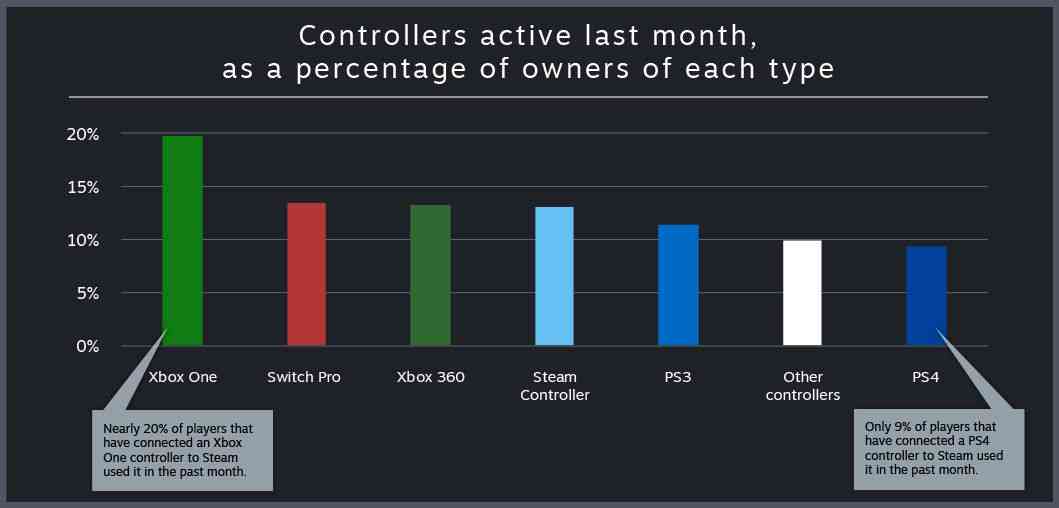 Note that the Xbox One interaction is almost twice as high as PS4. It is unclear how much of the difference can be explained by the user experience, but it would be reasonable to think that the difference will be less if more games provide trouble-free support. A potential solution for this situation is a full support from the games to Steam Input, which also includes clues for games depending on the controller. We'll talk about advanced Steam Input features in our later posts, but today we can say this: Steam has a large community of PS4 controllers and its potential is remained unseen.
Switch Pro controller is a new device, but it is quite popular
The Switch Pro controller was released in 2017, and players immediately started using these controllers on their computers. At the first times, controller support was limited with Steam Input key assignment. That is, the user interfaces did not match the physical device, and features such as motion-based control and vibration were not available. A Steam update in May 2018 enabled all features of this device and improved overall experience. As a result of this update, the number of Switch Pro controller that is connected to Steam on computers has accelerated. In the graph below, you can see this acceleration, which makes the Switch Pro controller the 7th most popular controller in Steam.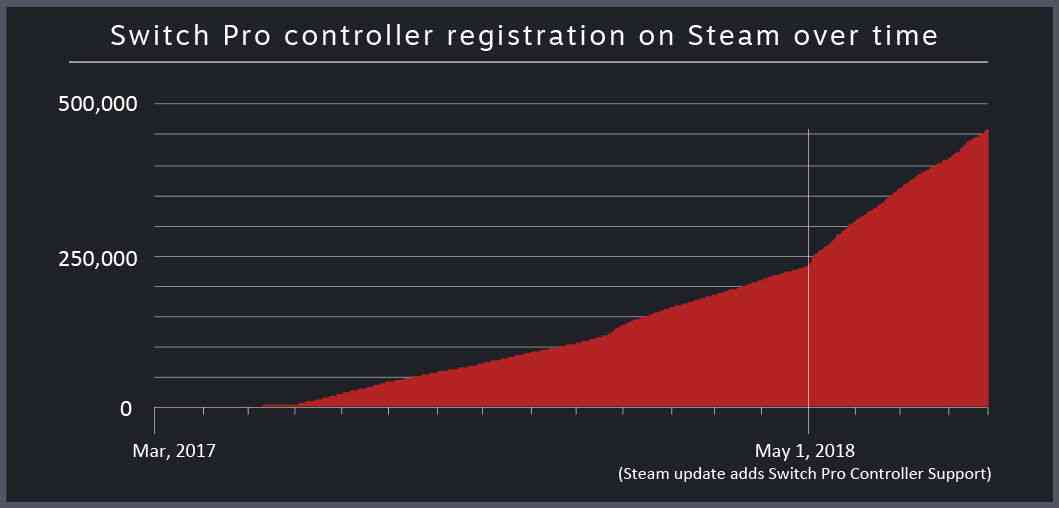 Steam Controller is used with a wide variety of game types
As we published the Steam Controller, our goal was to make the device compatible with your entire library, including mouse-weighted games. So far we have sold 1.3 million Steam Controllers, but the most interesting part is the use of controllers. The Steam Controller community is playing a broader range of games than any others. They also interact with the twice of games compared to the nearest device. In addition, many of the games do not have local controller support. We are pleased to see that our customers are interacting with so many types of games. We will continue to improve Steam Controller support for our present and also potential users.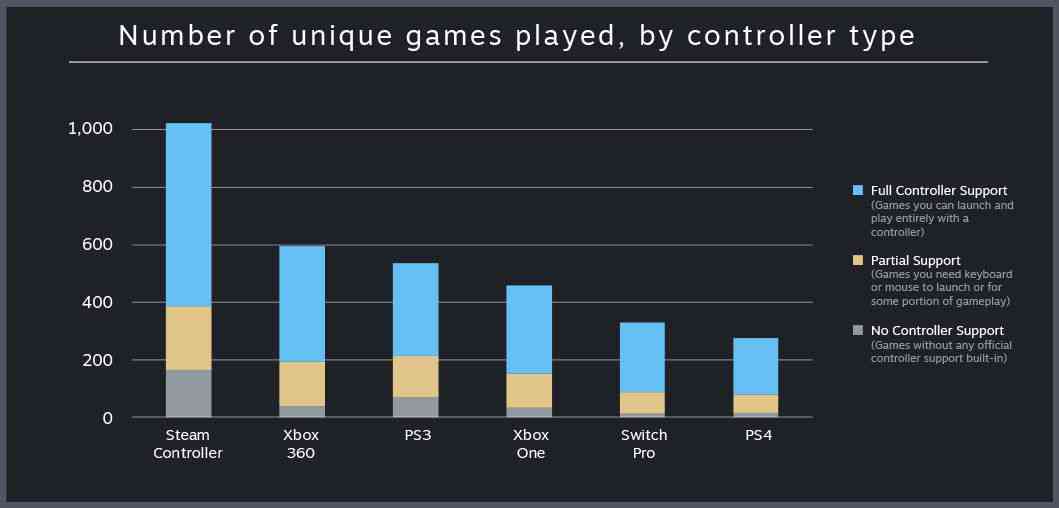 What's next?
There are a lot of controller types that used on Steam. Of course, we don't deny that support for Xbox controllers that covers 64% of Steam users, but what about the remaining 22 million devices? Moreover, new types of controllers may also have non-existent or unpopular input methods when a game is out. For example, motion controls are relatively new, but with Steam Input the community was allowed to try this system in older games. In addition, users from the community said that they believed motion controls were better than the controls used for years in some situations.
With the integration of the Steam Input system, supporting more than 200 controllers, providing a similar experience for all devices was beneficial for users. And because this system is a part of Steam, future Steam Client updates will support new controls without any additional effort from the developers. In our next post, we'll talk about these and other features of Steam Input and show you how it serves a wide range of users who plays with a controller on Steam.