Game News
Team Fortress 2 Hit 150k Concurrent Players On Steam – New TF2 Record
Team Fortress 2, which first appeared in 2007, seems not to be shelved despite the long time that has passed since its release. The popular game Team Fortress 2 hit 150k concurrent players and has broken its own Steam record. Although it is known that some of them are bots, it is claimed that a very small part of the given number consists of bots.
Team Fortress 2, one of Valve's popular productions, always manages to find a place at the top of Steam's most-played list. Team Fortress 2, an online action game, is appreciated by players for being free to play, having fun characters, and many other reasons.
Team Fortress 2 hit 150k concurrent players on Steam, liked by so many people, has broken its own concurrent players. Statistics on SteamDB and thanks to the Tweet by the creator of this site, show that the game broke this record on June 25th. Here are the details: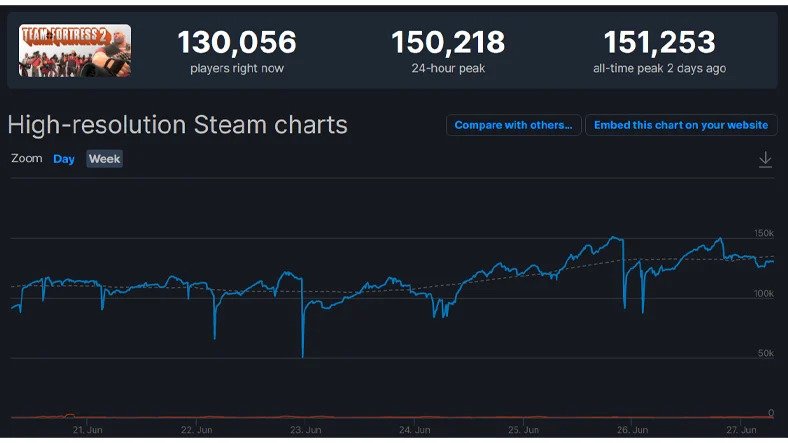 Team Fortress 2 Hit 150k Concurrent Players On Steam
According to the data, there were exactly 151,253 players in Team Fortress 2 at 15:30 on June 25. The reason for this instant jump is the update that came to the game the previous day. With this update, a few cosmetic items were brought to the game, but the thing that really attracted the players was whether the bot issue that we will talk about now has been resolved.
Bots are a part of the huge number of instant players we have given above for Team Fortress 2. Although it is not known exactly how many of them are bots, it is argued that there are only a few thousand bots on Reddit. Although Valve is trying to find solutions to the bot problem, it is still possible to find servers full of bots in the game. Fortunately, players stated that there was a significant decrease in the number of bots after the shared update.
Despite these bots affecting the gaming experience and all these years, we can say that Team Fortress 2 is standing firmly. Finally, don't forget to leave your thoughts on Team Fortress 2 Hit 150k Concurrent Players On Steam in the comments section below.