Game Review
Tony Hawk's Pro Skater 1+2 Review: Remastered and Modern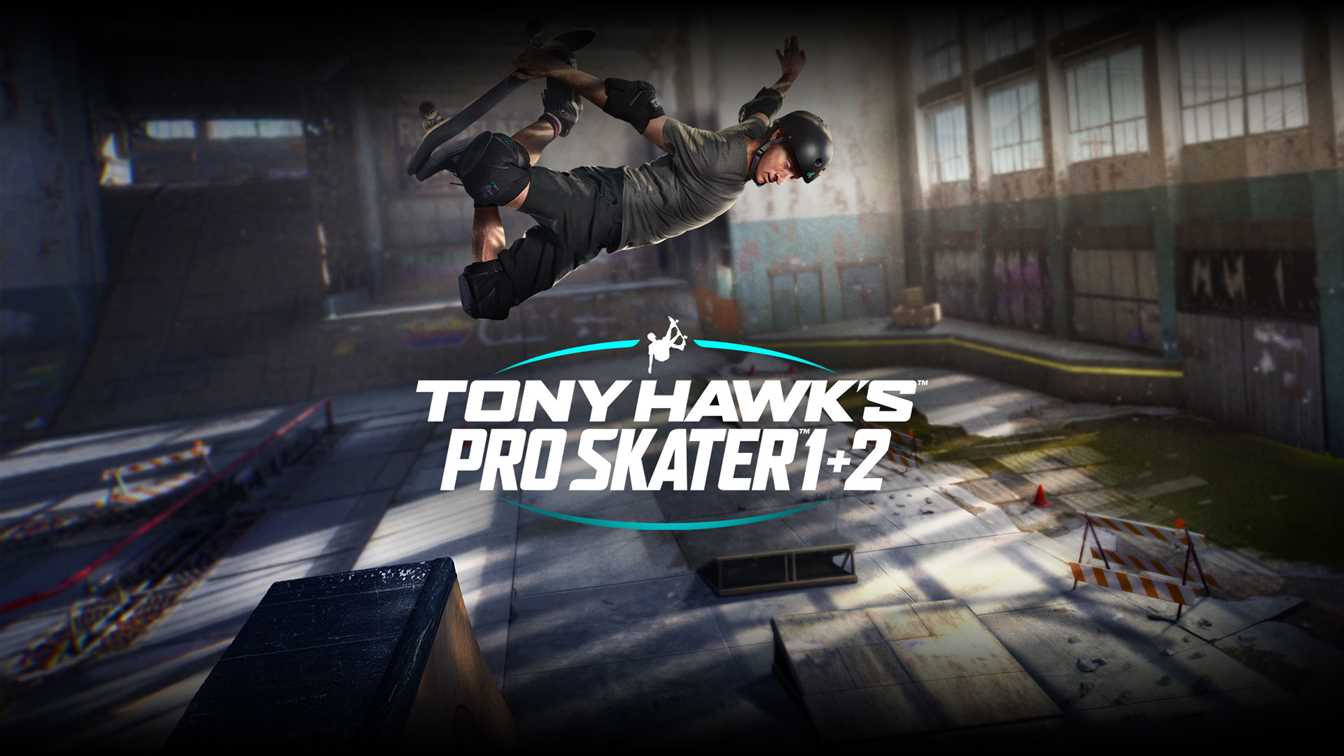 In these days, remastered versions of the games are so popular. Tony Hawk's Pro Skater 1+2 is a modern remake of Tony Hawk's Pro Skater 1 and 2. The game reminds me of the old days while offering brilliant gameplay. Even though the skate games have had their day, this remastered version cheers us up. Wear your helmets; we are going to ride on a skateboard. So let's check our Tony Hawk's Pro Skater 1+2 review.
Tony Hawk's Pro Skater 1+2 Review
Tony Hawk's Pro Skater 1+2 is a linear game. We unlock the stages in order. We will need to complete several goals to unlock new skate parks. Each skate park has several tasks to complete. Also, each park has many different challenges; some of them are similar, while others are unique. As unlocking the maps, our tasks increases and varies. There are some specific tasks in the maps. However, some maps don't include these particular tasks. For example, collecting S-K-A-T-E is a particular task in the game requiring to contain five floating letters across each park. Yet, managing letter becomes problematic as the game progresses.
Besides, there are the secret tapes that we will find after we comprehend the level's gameplay. Another task in the game is to get enough score. Every stage has three score task: High Score, Pro Score, and Sick Score. To unlock a map, you have to complete another map's almost all tasks. If you like to push your limits, this game is totally for you. These challenging tasks stimulate our competitive impulse. Also, thanks to these difficult tasks, we proceed by realizing the basic game mechanics of the game.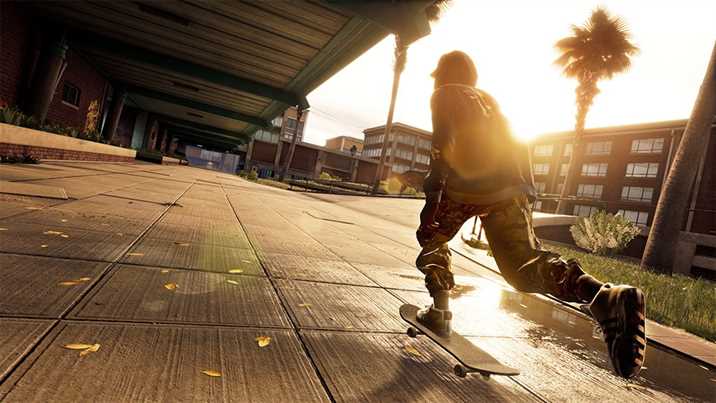 Lots of Skaters to Choose
As we unlock new stages and completing the tasks, we can earn Experience Points (XP) and Cash. XP advances our level and Cash enable us to buy items from the store. The store includes the skateboards and accessories for our skater. So, we can change our characters' outlook and clothing. By the way; even if you play with Tony Hawk on single-player mode, you can also play with many brilliant skaters. Your customizing process is just valid for your current character. So, you need to choose one of the characters with different skills and features. After selecting a profile, you can customize it.
Apart from Tony Hawk, we can play 21 skaters like Aori Nishimura, Bucky Lasek, Elissa Steamer plus a skeleton. Yes, we have a skeleton called Ripper. As we play, we find Stat Points hidden in each skate park. These points enable us to improve our character and items. We can modify the character's speed, how high they can jump, how quickly they perform tricks, and so. With these skills, you can develop your man before joining and starting to fight in multiplayer games. Note that, we can play our modified character in the multiplayer games. Still, if we select another character, we have to go on playing with the default specifications of the chosen character.
How to Create a Character
We can create a new character from scratch. We can enter information like the character's name, skater style, stance and push style. After giving a name and adjusting your skater, we can customize it in many ways in the Look Menu. In the menu, there are several faces, hairstyles and makeup options to choose. Also, we can add tattoos and change their voices here. We are able to use stat points to improve our character from this menu. Like RPG games, we cannot choose eye or eye brow's size of the character, but I think the Look menu has many options and it is enough for me. As I said, we have to choose the character's features and skills in the first place. Meantime, you can put a mask on your character's face.
While customizing our character or discovering the game details, we can gain some awards. These awards can found Challenges Menu, and we can get them if we complete the related tasks successfully. We can use our awards as Cash or Experience Point, and sometimes we can also get new skateboards. Don't forget that the awards don't add automatically; we have to approve by clicking them.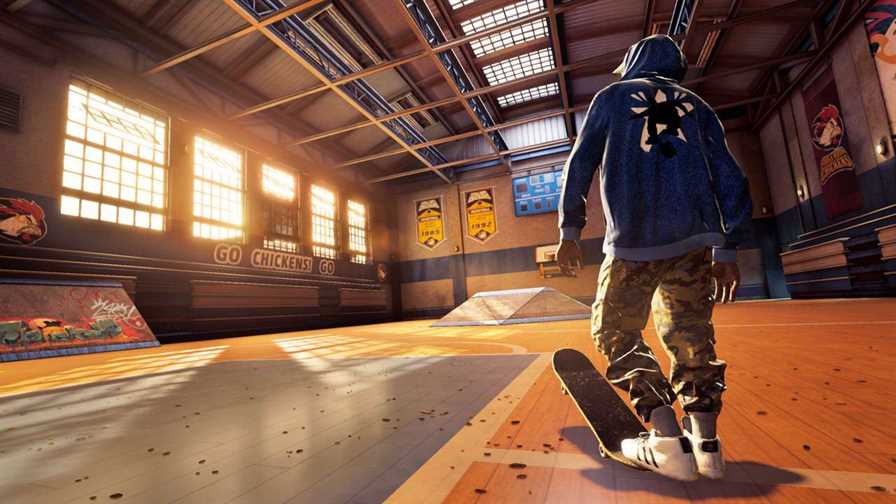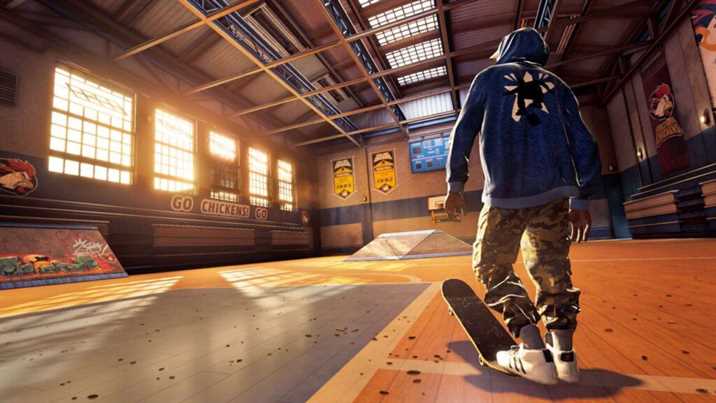 Features of the game
The game is full of combos and special moves. When moving in series without failing, our specific tricks graduate crazier goals like chain combo. Multiplayer mode features both online and local multiplayer. We can start a session with friends or attend a public lobby. The lobbies consist of up to 8 players. By competing against your friends or other random players, we try to get the highest run score or best combo. Besides these, the players can interact with each other. For example, we have an option called "Create a Park". We can build our skate park. Other players can play in the skate park we make. Also, we can see people's skate parks. We need to unlock items here gradually, but we can play any skatepark of other players designed. I suggest visiting other players' parks to witness the lovely creations from amateur designers.
As for the visual success of the game, the graphics have a vast improvement. Each map has a unique identity. Each skatepark bathed in stunning lighting effects, all optimized for realistic levels of contrast and shadow depending on the time of day. With upgraded visuals, we can examine a new game field, and we can remember the old games' retrospective sense. The street art and graffiti details are worth to see.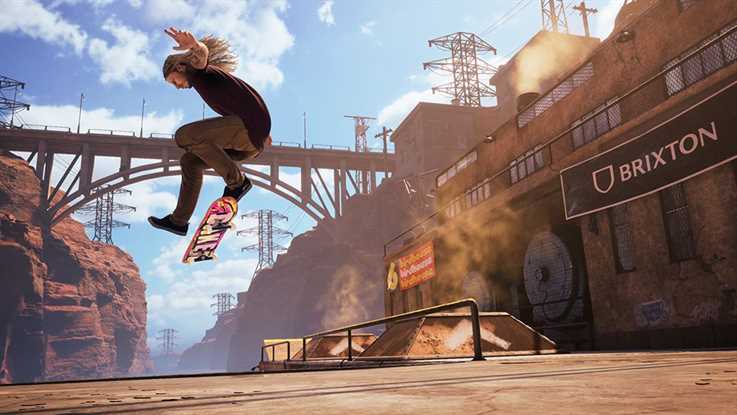 In my opinion, the most entertaining aspect of any Tony Hawk game is the soundtrack. The music playlist for Tony Hawk's includes best tracks from the first two games, along with more recent tracks from artists like Machine Gun Kelly, Skepta, Billy Talent. There is only one negative side of the game, and that is running on Epic Games Launcher. It cannot connect to servers at times, and it doesn't allow you to enter the game without connecting to servers. However, this may be about me. Also, it is loading times are a bit long.
Tony Hawk's Pro Skater 1+2 Review: Conclusion
After all, whether you like skate games or not, Tony Hawk's Pro Skater 1+2 is a cool game for everyone. Even if you have no idea about skateboarding games, the Tutorial section teaches you everything. The system of the game works properly. I haven't met any software problem. Graphically, the game is all fine; the atmosphere has an impressive structure. The songs are great; the gameplay is full of combos and entertaining. So, that's all for now. Hope you liked our Tony Hawk's Pro Skater 1+2 review. Please share your question and comment in the comments section.