We are together with a new product review, which is the VAVA Cam Pro VA-HS003. Vava first established in 2015, and it became an essential name in the smart living sector. The company awarded its first Red Dot award in 2016. Also, they continue improving their products. Now, we have one of their products in our hands: Vava Cam Pro VA-HS003. Keeping our home and loved ones safe is a significant point. And you don't need to pay big for security, or it doesn't mean you need substantial devices. VAVA Cam Pro has developed to meet the problems and demands of modern life more practically.
The camera can use inside or outside your home. Besides, it is portable and has a wireless design. That new camera has a 110-degree wide-angle lens. By the way, it offers clear recordings with 1080p high resolution. Also, it has a weather resistance rating of IP66 for outdoor use. Since the product is waterproof and dustproof, its durability is very high. Thanks to its rechargeable battery, it can use for 12 months. Also, you can charge the product with the solar panel attachment.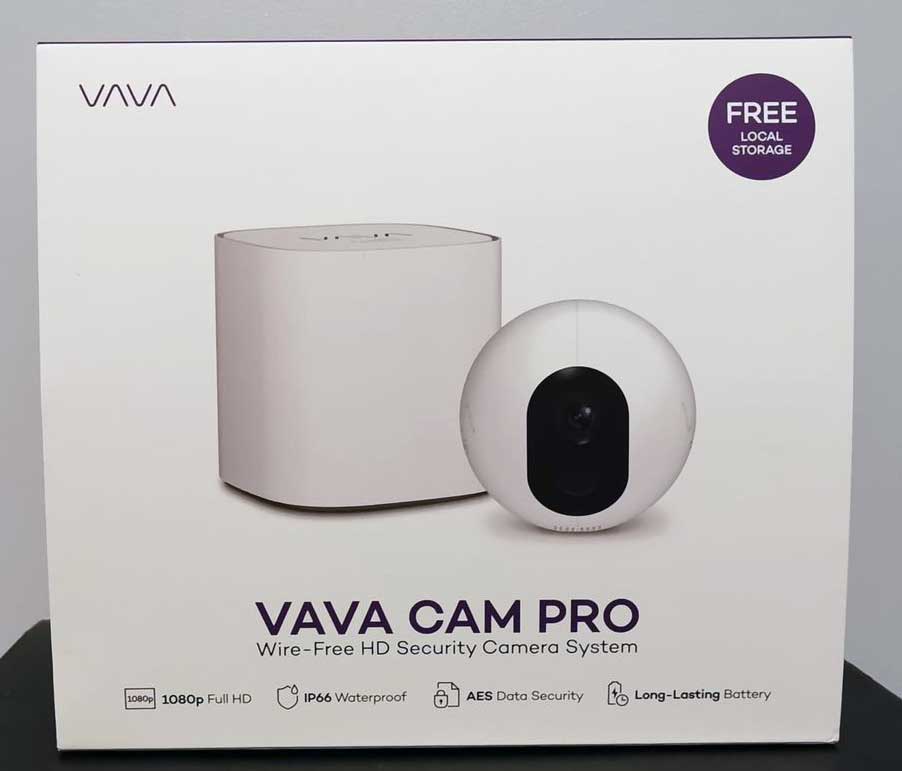 VAVA Cam Pro VA-HS003 Review: Wireless Security Cam Features
In the VAVA Cam Pro review, couple features that make this new product stand out:
Clear image & video quality: Crisp 1080p Full HD resolution with H.264 video encoding; Records high-quality images and videos with efficiency.
Motion Detection & Alert: The footages based on a PIR motion sensor and triggered by movements. When motion detected, you can receive the notification, and activate the alarm for abnormal actions.
Easy to set up and use: The wireless camera setup takes only a few minutes, and you don't need those messy and mixed wires. You don't have to worry about your can in the heavy rain because it is IP66 certified. High-performance rechargeable battery with 5000mAh capacity, up to 3 months use when triggered 15 videos per day, 10s each.
Nightvision & wide camera angle: 7m IR Nightvision mode makes sure the camera detects movement even in low lighting; 110° wide camera angle
Smartphone app: you can customise iOS and Android application.
Local & Cloud Storage for Options: Except for a free 8GB micro SD card built-in (can be expanded up to 128GB)
Encryption: Both the base station and cloud storage use high standard data encryption to make sure your data is safe and secure.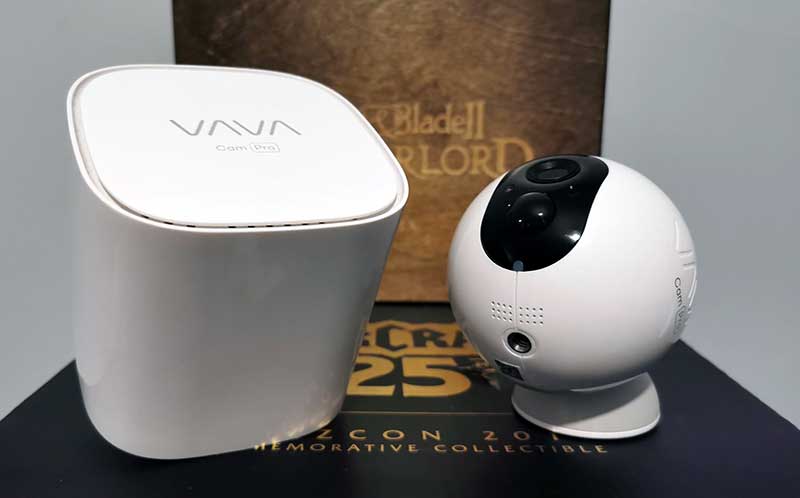 Specifications
Lens:
110°Wide Angle

f / 2.0

Resolution:
1080p
Night View:
2 x 850nm Infrared Light

Effective Range: 7m / 23.0ft

Microphone:
Built-In
Speaker:
1.5W

8Ω

PIR Detection:
Detection Angle 110°

Effective Range: 7m / 23.0ft

Battery:
5000mAh Polymer Battery
Power Consumption:
≤4mW (in Standby Mode)
Adapter Power:
5V / 1.8A-2A
Internet:
2.4G Wi-Fi

Effective Range 200m / 656.17ft (empty space)

Weather Proof:
IP66
Camera
Lens: 110-degree wide-angle lens, f/2.0
Sensor: Sony IMX323, 1/2.9″
Resolution: 1080pHD, H.265 encoding
Night view: 2 x 850nm infrared light
Microphone: Built-in
Speaker: 1.5W
Battery: 5000mAh polymer battery, 7.68V
Adapter power: 5V / 2.5A max
Internet: 2.4G WiFi, Effektive Range 200m / 656.17 ft
Weather-proof: IP66
80.4×80.4×80.4 mm / 3.2×3.2×3.2in
Base Station
Speaker: 2 Watt
MicroSD: Upto 128 GB
Internet: Ethernet connection
Range: 60m/197 ft
Cameras: 4
Power: 12V/1.5A
USB: 5V/1A
Dimensions: 95x95x95mm / 3.7×3.7×3.7in
What's In The Box
For one camera:
VAVA Cam Pro x 1
VAVA BaseStation (can support up to four VAVA Cam Pro) x 1
Micro-USB charging cable x 1
Power adapter for Base Station x 1
Desktop Mount x 1
Outdoor Mount x 1
Magnetic Mount x 1
VAVA Cam Pro Setup and Usage
You read our VAVA Cam Pro review and right after you placed your order for VAVA Cam Pro and it arrived safely at your home. Before using the product, you must pair the base station with the product. You can easily make this connection in a few minutes. Connect your modem to the base station with an Ethernet cable. Wirelessly pair your VAVA Cam Pro with the base station. Also, the VAVA Home mobile application that you will download to your phone will help you step by step throughout the installation.
In the physical setup of your product, this versatile camera has multiple mounting options. You can complete the assembly with a simple magnetic rubber ring that you put on the desktop for home use. Thanks to the rubber ring, you can easily position the camera anywhere in your home. Besides that, there is also the option of screwing on the camera for stand mounting. With the stand mount, you can screw your camera to an exterior or interior wall, a fence, or even a tree.
VAVA has its application to control your camera live. You can view the live stream by selecting your camera from the devices page in the VAVA Home application. It assigned with keys for the controls of the camera. With the buttons, you can take photos, manually record videos, activate the microphone, and turn the speaker on and off. There are also indicators for the internet connection status and the current resolution of the camera on this panel.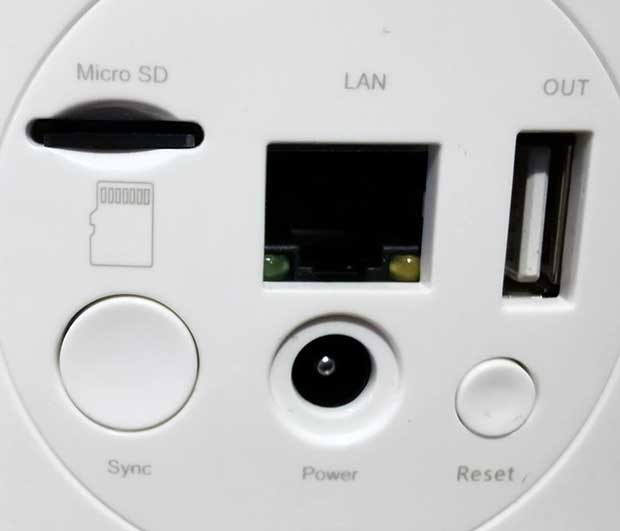 VAVA Cam Pro Sensors
One of the features of VAVA Cam Pro is that it records the video clip thanks to its motion sensors. There are three different levels of motion detection sensitivity to get accurate alerts. Different sensitivity settings – Low, Medium, and High – save you from receiving a warning message when your dog wags his tail in the garden. VAVA Cam Pro uses passive infrared sensors to distinguish and detect movements happening in the environment. Also, these sensors used by the camera monitor body temperature and save you from false alerts.
If you want to move the security business to a more limited point, the product has a movement zone restriction feature. The feature resizes the area in the image and starts scanning the motion area in a smaller region. When motion is detected, the camera will trigger and record a video clip for you. The duration of the videos can set as 10-20 or 30 seconds. It can also send you an email notification if you wish. With the VAVA Home application, you can review snapshots and clips.
Video clips arranged by date and can be filtered. Furthermore, this application also has the option to share and download the video. When you want to share the video, the video starts downloading directly to your device, and you can share it easily.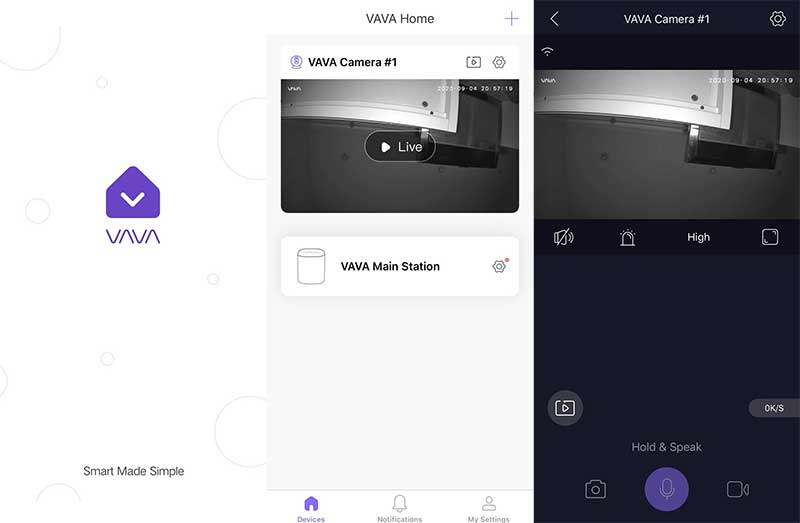 Tests and Results
In the VAVA Cam Pro review and tests, the balanced illumination and image were entirely accurate. Compared to other indoor and outdoor security cameras, the image is not at all pale. The content was evident as the camera was recording in 1080p HD both day and night. The night vision feature is quite sufficient with an 850nm infrared LED. It brightens dark areas sufficiently, can quickly reveal shadowy areas. It offers a view range of 23 meters, even in the darkest hours of the evening.
Limitations are, there are fish-eye distortions as in every 110-degree lens. That is normal for those who want to capture a more wide angle of view. The camera does not have any zoom feature. You can view and download the image by using external programs.
VAVA Cam Pro has a dedicated 24-hour customer support team in case you encounter any problems. Furthermore, the 24-month warranty also increases its reliability. VAVA Cam Pro delivers reliable security in your home, office, or area wanted to protect. You can find the product here.
You can also find our review of VAVA Portable SSD Touch with Fingerprint Encryption, another product of the VAVA brand, here. See you in our next review article.
We hope you enjoyed our VAVA Cam Pro VA-HS003 Review. Please share your thoughts with us in the comments section.