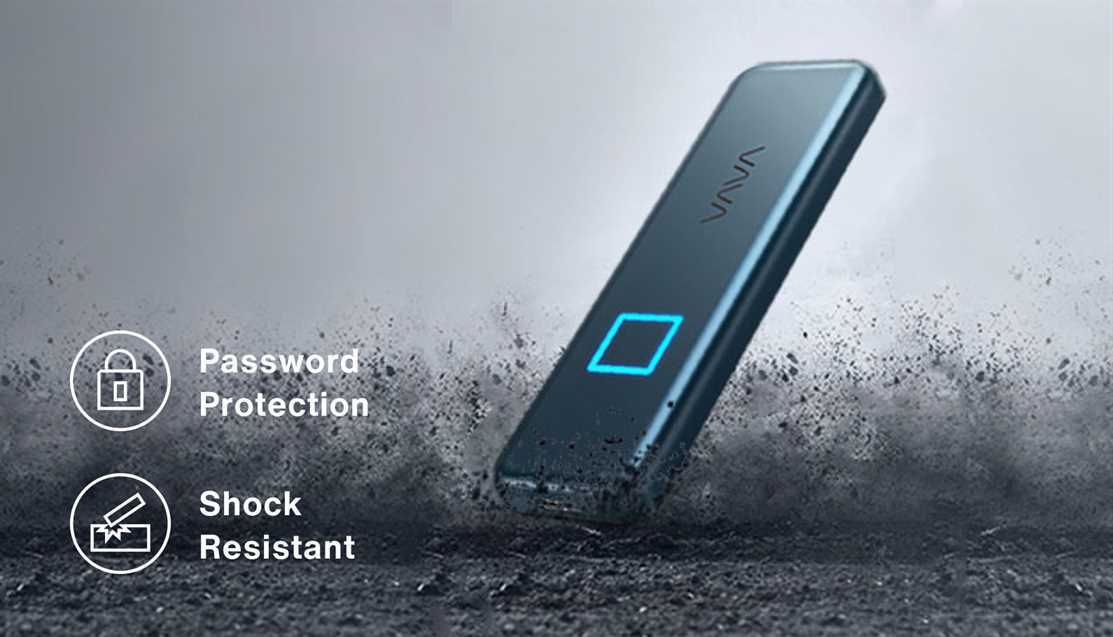 We are here with a new product review, is the VAVA Portable SSD Touch with Fingerprint Encryption. Today, computer technologies and hardware cannot show significant improvement, especially in terms of processor and RAM, with silicon-based chips approaching the limit on the speed side. We don't see giant leaps in performance among processor generations. However, there are solutions for users who want to speed up their computers, mostly Windows startup speed, performance in navigating the operating system, shortening of loading screens in games, and stability. Undoubtedly, SSDs are at the top of these solutions.
Among all technological accessories over the years, portable storage is one of the things that has changed the most. Ten years ago, slow, massive, fragile hard drives were the only options for backing up large amounts of data on the road. People always had to carry one with them.
Portable solid-state drives (SSDs) completely changed the game. Much faster, smaller, and lighter than a conventional hard drive, these drives are much more reliable due to the absence of moving parts. Like everything else in technology, the price, which was extremely expensive when it first hit the market. It has dropped significantly over time.
This is where the VAVA Portable SSD comes into play. How well does this small, lightweight device work in practice with little monsters that fit in your pocket? In addition to all these, this maximum-security SSD also offers its users the opportunity of fingerprint lock.
Recommended Article: Asus Vivobook X412DA (EK012T) Experience Review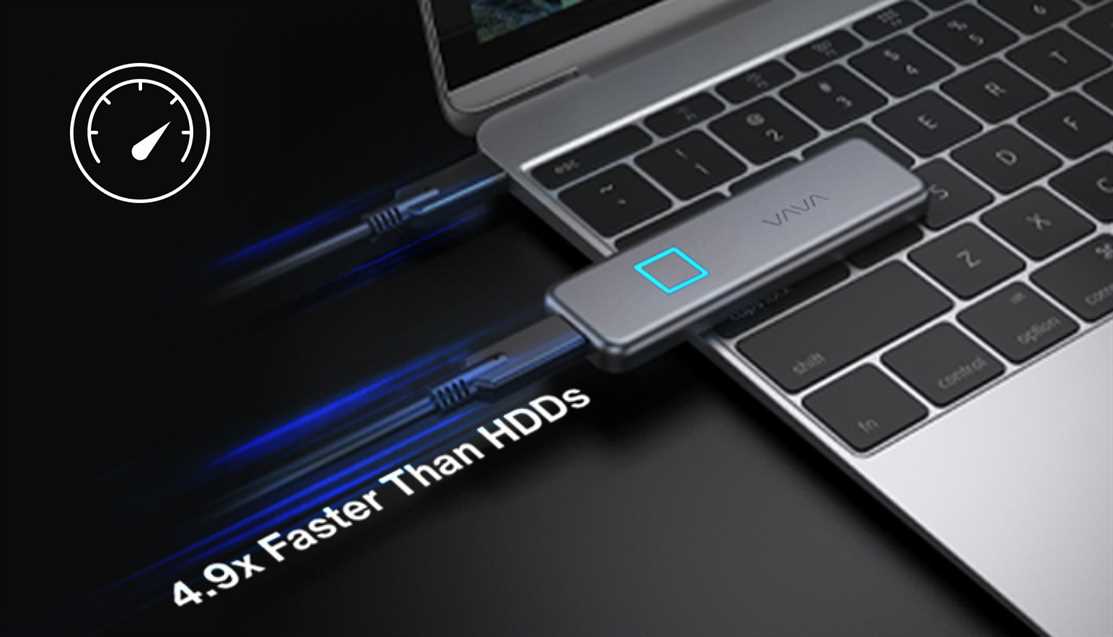 VAVA Portable SSD: The World's Most Secure Portable SSD
Simple Touch Security: Secure all your files with a straightforward touch using AES 256-bit encryption. With the capacity for ten team members" fingerprints, collaborating on projects has never been easier. Unlock using fingerprint authentication or user-generated passwords.
540MB/s Lightning Fast Speeds: Transfer 10GB of data in just 20-30 seconds with the ultra-fast speeds of the USB 3.1 Gen2 VAVA SSD Touch. Featuring read/write speeds of up to 540/480MB/s, it's's 4.9x faster than standard hard disk drive (HDD).
LED Status Indicator: The VAVA SSD Touch features an LED light that glows when the device is in use. The light blinks blue during data transfer and red when an error occurs, so you know what your device is up to at a glance.
Strong and shock Resistant: Unlike HDDs, the VAVA SSD Touch is free of any moving parts and is more resistant to shock. Constructed of vital zinc and aluminum alloy, the SSD Touch prevents any data loss from drops up to 4 feet (1.2 meters).
Fully Compatible: Comes with USB C to C and USB C to A cables to seamlessly work with Windows PC (Windows 7 or higher), MAC (MAC OS 10.12 or higher). Android smartphones or tablets with USB C port, iPad Pro, Xbox, and PS4.
Get 40% off your VAVA SSD Touch. We're excited to launch on Indiegogo on September 8th. You can be one of the first 250 backers and get an exclusive 40% discount.
$79.99 (500GB) $129.99 (1TB) $249.99 (2TB)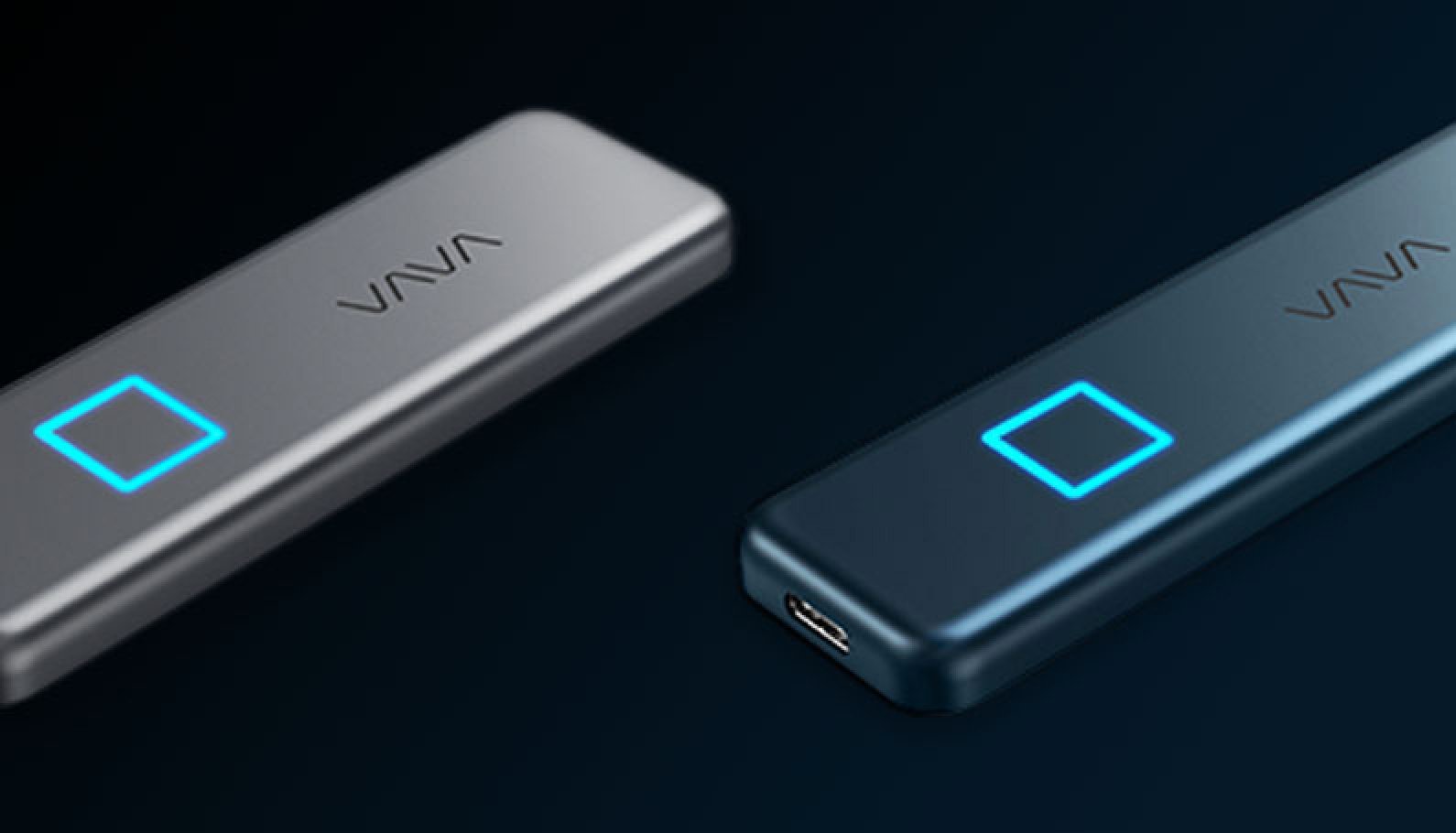 Features and Specifications
The VAVA Portable SSD comes in two capacities at the time of writing. They are 512GB and 1TB and 2TB. It's been a thin grey and black rectangle. The drive came with a manual soft case and two short cables: USB-C to USB-C and USB-A to USB-C.
Includes instructions for use with computers (Windows or Mac), iPad Pro, and Android devices. Unfortunately, it is not supported on other iPad models and iPhones even if you use the correct adapter due to insufficient power provided by the Lightning port.
Portable drives are not the most sophisticated accessory, and that is the case here with only one USB-C port on one end and a logo and sticker at the bottom.
You don't need to install drivers or applications to use the drive unless you want to encrypt the content. VAVA Portable SSD includes software for macOS and Windows that enables AES-256 encryption—requiring you to enter a 12-character password before you can access data.
However, it is not supported by mobile operating systems. So if you plan to connect the drive to your phone or tablet, you need to disable it or use alternative encryption software. Desktop software can found on the SSD or downloaded from the website, along with a copy of the manual.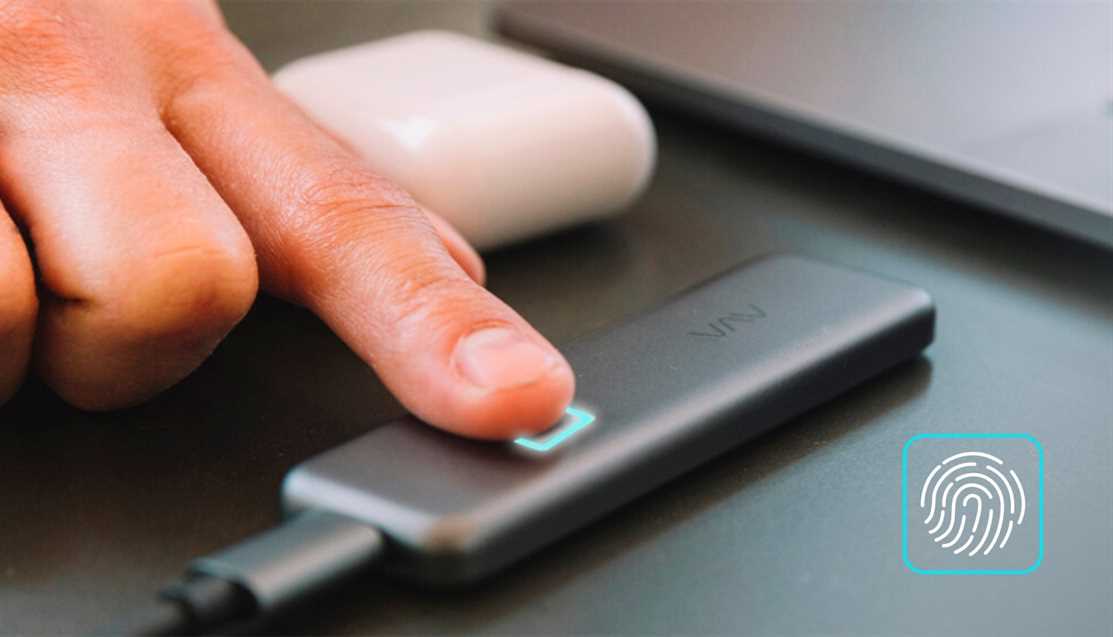 VAVA Portable SSD Software
After you get VAVA portable SSD, you are in good hands. It's a simple app with a big button to activate what the company calls "Safe Mode". Enter the password twice and also a hint if you forget it; encryption is automatically enabled.
You also have the chance to add a fingerprint. After confirming the password, you can add up to 10 different fingerprints. The installation took only a few seconds on Windows.
Real-World Test
VAVA portable SSD fits easily in the palm and is light enough to be carried with one finger. It is tiny for anyone who use to hold a standard portable hard drive with them. It is also small enough to fit comfortably in your jeans pocket.
VAVA Portable Touch SSD Test Results
You can review the SSD's benchmark results below: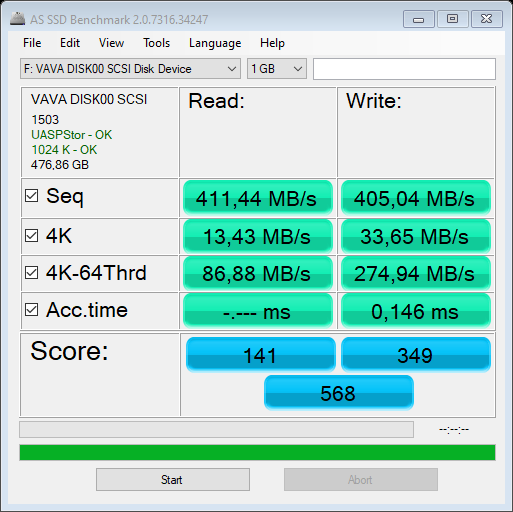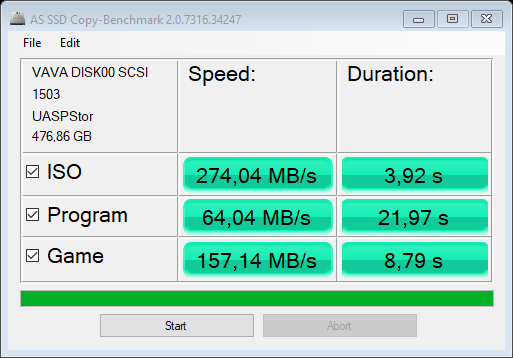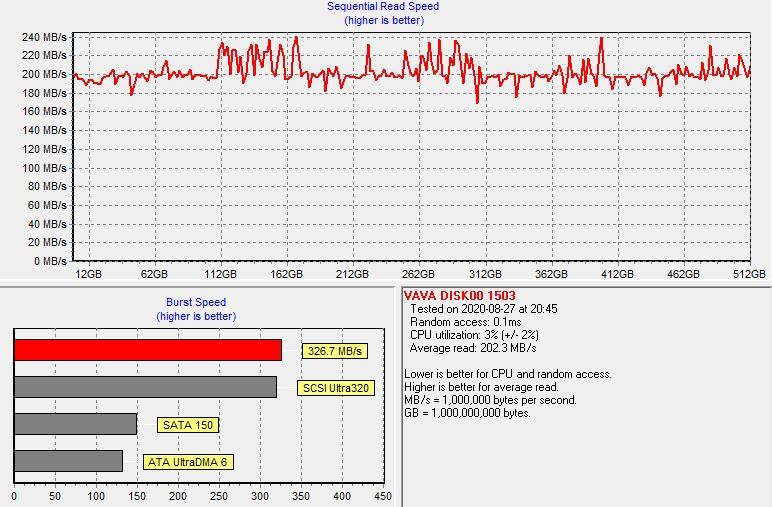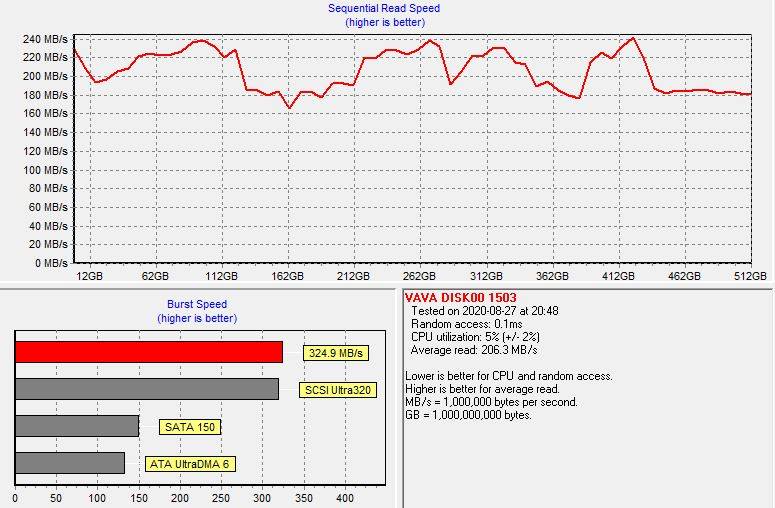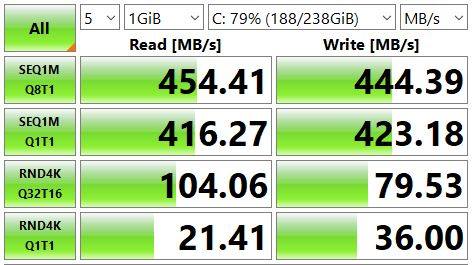 Conclusion
Data protection and security have become one of the most important issues today. We believe that VAVA SSD Touch provides this security fully. In addition to the security it provides, it is very stylish, portable, and very easy to carry. It can easily fit into the pocket of your jeans. If the product dropped as a result of an accident, it is very unlikely that it will damage due to its durable exterior.
The product includes a fingerprint reader for extra protection. It allows up to 10 fingerprints when it has more than one user. It can also use only with a password setup. The software used in the product setup is also very simple. The setup will only take a few minutes.
We tested the product with some programs for performance testing. We've seen read and write over 400MB / s each time in sequential read and write. VAVA SSD Touch, we found its performance quite fine. It is a very nice portable drive with its high security and durability.
Stay tuned to see you in our next review.