If you are a hardcore gamer, there are a few important features you expect from your monitor. Fast response time (ms), refresh rate (Hertz) plenty of customizable settings, built-in speakers, internal USB output are some of them. But, of course, one of the most important things is that it should be budget-friendly. You can find details of the cheap gaming monitor AOC 24G2U in our review.
AOC 24G2U Review – Best Cheap Gaming Monitor
Today, the AOC 24G2U cheap gaming monitor is on our hands. Taking the monitors out of the box feels like a grind. The foam sleeve is scattered all over, the parts attached around it are poured. I should be glad to say that for the first time, AOC 24G2U monitor that came out of the box comfortably, neither did the dirt nor the parts spread around. Moreover, instead of the ac adapter found in many monitors, you can supply electricity to the device with just one cable.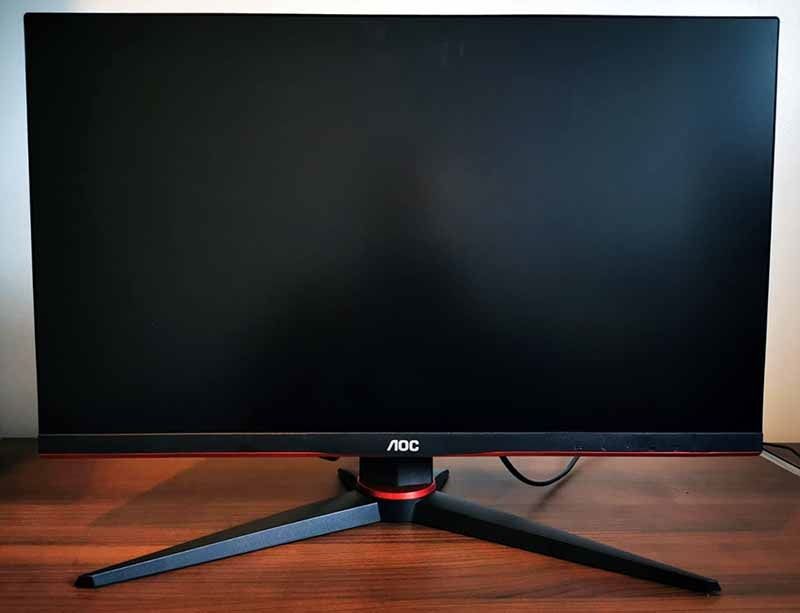 Since the product is quite light, it was comfortable to take it out of the box and put it in place. The first thing that caught my attention was the rather thin frame. Ideal for using multiple monitors. You can easily use up to four monitors into your system. Lets's start with our AOC 24G2U review with the design.
Design:
When you take the product out of the box, you question how much performance you can get in this price segment. However, before you plug it in, you realize that it is a good monitor in design. With its slim display bezel, 2XHDMI 1.4, 1XDisplay port 1.2, 4XUSB 3.0, and audio inputs/outputs, you realize it's a handy product without further setup.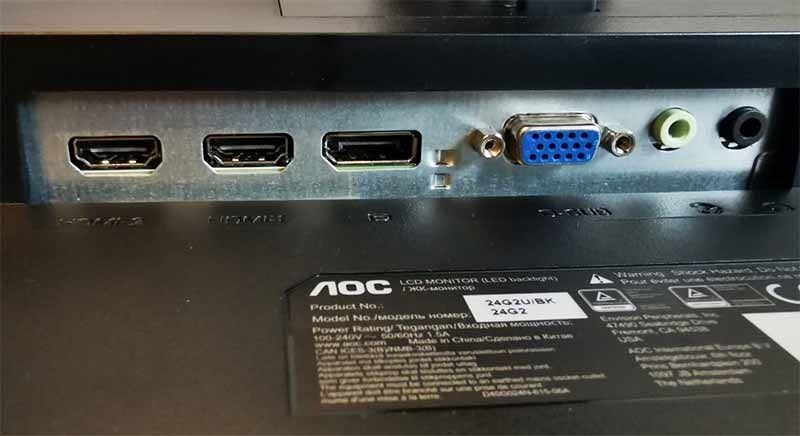 The stand that comes with the monitor is very useful and stylish. It can be raised up and down, and also rotates to the right. You can easily adjust the monitor for yourself. The stand is very easy to install. You just need to put it in the holes. In the same way, you can easily disassemble it. Thanks to the rotatable stand.
The power button and OSD is controlled by pressable buttons beneath the right side of the bottom bezel. You can change your preferences with the buttons.

There are five buttons that you can use. With the first one, you can select the input source. Also, this button works as a select button. You can choose preset which you want, like RTS or Racing mode. The third button enables hardware crosshair. You can use this if you don't like crosshair in your game. The fourth button is the most important one. You can select detailed settings with this button. You can also reset all your settings on the menu with the fourth button. The last one is simple. The power button of the monitor.

Fresync And G-Sync support
The AOC 24G2U adapted to every game that I played during my gaming tests. Such as The Witcher 3, Metro Exodus, Ghosh Recon: Breakpoint, and Rainbow Six: Siege. I have not encountered any shading problems. If you encounter this kind of problem, you can choose weak or medium options from OSD's overdrive. The product officially only offers AMD's FreeSync feature. Meanwhile, NVIDIA users are not forgotten. While not one of the G-Sync compatible monitors, it also works perfectly when connected to an NVIDIA graphics card.
Specifications
The monitor uses a 23.8" IPS type panel, more specifically the special backlit Panda LC238LF1F IGZO IPS CELL. The refresh rate of the AOC 24G2U is 144 Hz, which is also a popular choice for today's PC players. The fluency and low latency offered in competitive games, which we can get 144 FPS, and the high refresh rate that directly affects your game performance, do not leave behind the ghosting effect. Not only in games but also in normal use, we can see the benefits of fluency brought about by the extra refresh rate. In addition, monitor's 1 ms response time, combined with high refresh rates, manages to offer a quality experience. The 24G2U is not an HDR gaming monitor, but its quality is indisputable as it provides most of the DCI-P3 color gamut.
Although its technical features give an angle of 178 degrees, I can say that it has a reel value between 165-170 in use, which is quite sufficient. Who looks at all that much already? The important thing is that even when looking at this angle, the amount of darkening in the image is very low.
AOC 24G2U Review: Decision
AOC 24G2U is one of the monitors in this price range that can offer detailed usage features when compared with the other ones. Players can easily choose this gamer monitor with peace of mind. This product, which has a lot of variety in terms of functionality, has features that will never let a player down.
Pros:
Thin bezel
Although it officially supports FreeSync, it also works fine on G-Sync
Price / Performance product
Numerous USB ports
Cons:
Presets are pretty useless

AOC 24G2U Tech Specs
Screen
Monitor color: Black
Monitor size: 23.8 inch
Resolution: 1920×1080
Refresh rate: 144Hz
Response time (mprt): 1 ms
Panel type: IPS
freesync: 48-144
Low-blue light: Yes
Backlight: WLED
Color SRGB coverage: 126
FlickerFree: Yes
Aspect ratio: 16:9
Brightness: 250
Contrast (dynamic): 20M:1
Contrast (static): 1000:1
Pixel pitch: 0.2745
Active Screen: Area 527,04(H)mm X 296,46(V)mm mm
Viewing Angle (CR10): 178/178 º
Colors: 16.7 Million
Bezel type: Frameless
Weight: without stand 2.95 kg
Scanning Frequency: VGA/DP1.2/HDMI1.4 : 30 -160KHz (H) VGA : 50 -146 Hz (V) DP1.2/HDMI1.4 :48-146Hz (V)
Adobe RGB Coverage (%): 108
OSD languages: EN, FR , ES, PT, DE, IT, NL, SE, FI, PL ,CZ, RU, KR, CN (T), CN (S), JP
Hard Glass: 3H
Connections
Signal input: HDMI 1.4 x 2, DisplayPort 1.2 x 1, VGA
Display Port version: 1.2
USB: Yes
USB Input: USB 3.0 x 4
Audio Input: Line in
Audio output: Headphone out (3,5mm)
Speakers: 2 W x 2
What's in the box
HDMI Cable 1,8 m
Displayport Cable 1,8 m
Dimensions
Product dimensions excl base: 539.05W x 322.1H x 47.2D mm
Product dimensions incl base mm x mm x mm: 539.05W x (374.61~504.61)H x 227.36D mm mm
Carton dimensions mm x mm x mm: 605W x 184D x 492H mm
Net weight excl package kg: 4.25 Kg
Gross weight incl package kg: 6.25 Kg
You can find more details on the AOC about the monitor website.