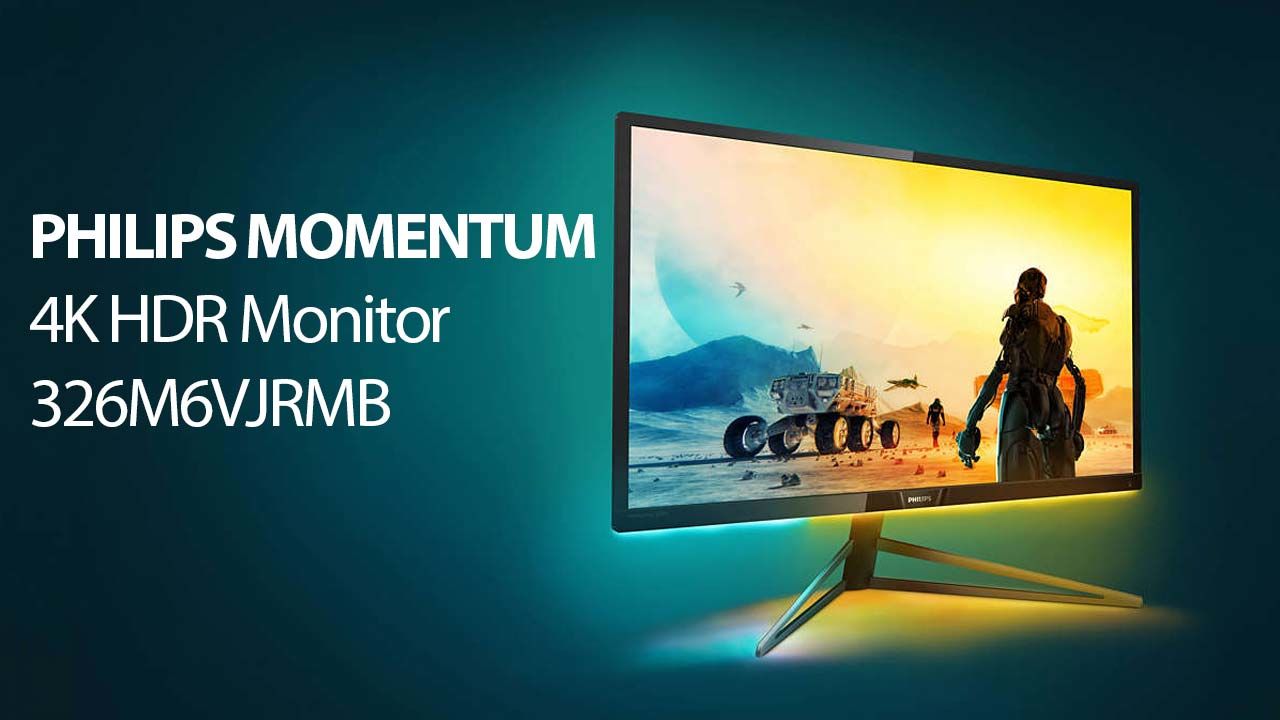 There is no doubt about the quality of the Philips products in any type. But if you are a tech guy, you probably should hear that Philips is one of its kind when it comes to displaying technologies. Also, I'm a personal fan of the Philips monitors and TV's just because of their natural and not over saturated colour performance. Philips is also felt really solid and great at longevity. I'm using the same Philips monitor for more than 4 years. And to this day, there is not a single issue I ever saw. This new monitor has been designed specifically with console gamers in mind.
Philips Momentum 4K HDR Monitor 326M6VJRMB Review
So let's get to the topic, today, we will be reviewing the Philips Momentum 4K HDR Monitor (326M6VJRMB). At a glance, the Philips Momentum might not look as aggressive as we see the same type of monitors of the other brands. Actually, it looks very classic and elegant. Just like the good old times. But don't let this simple look makes you think that it's a simple monitor. Because Momentum is bringing so many impressive features on the table, that makes it a perfect monitor for both gaming and multimedia usage. Let's get into details.
From the design perspective, the Momentum is looking simple as I said before, but there some little details that make it elegant and premium. The stand of the Momentum is pretty impressive and build from metal. That makes it both sturdy and classy. Also thin design choice makes it a little bit more space-friendly. So it will not take over all of your tablespaces. While using it, on a medium-sized table, I still had pretty much room to place my belongings freely on the table. Apart from the stand, Philips makes the back of the monitor as simple as possible.
"Philips Momentum is one of the best examples of the beauty of the simplicity"
There are no shining parts reaching out from everywhere that make it a gaming monitor. The front side is also simple, the paint is a little bit shiny and looks like a grand piano paint from close. So for its design, in short, I can say the Philips Momentum is an impressive and beautiful piece.
Monitors, of course, build for displaying beautiful images and videos, so the most important thing about them is their image quality. First thing first. Philips Momentum resolution is 4K, so you are not going to miss any detail while watching a 4K Netflix movie or playing your best games. But you should also consider upgrading your GPU if you don't have a beast like 2080 or 2080 Ti, because 4K resolution will be the most demanding thing that affects your FPS.
"Adaptive SYNC, HDR, 4 ms Latency! Quite a game machine if you ask me!"

Talking about FPS, the Momentum is supported Adaptive-Sync technology that allows it to get fluid, artefact-free performance at any frame rate. So you will be getting a silky smooth performance no matter how much FPS you get. Also, adaptive Sync allows much faster response times than standard V-Sync. The typical grey to grey response time is also great at just 4 MS. We might see some lover response times on other brands but don't forget than Momentum is MVA panel which allows much greater colour reproduction quality and high viewing angles that allows you to experience the image at any given degree.
MVA Panels also have an advantage on static contrast ratios, so Momentum has a 3000:1 static contrast ratio which makes it beautiful showing details in low light conditions. Also SmartContrast let it raise to 80M:1 with decreasing its backlight. On the other hand, Philips Momentum supports Ultra Wide Colors, which let the monitor support %114 of NTSC AND %135 of SRGB, also it covers %100 OF BT.709 and %98.61 of DCI-P3 coverage. But one of the most important features of the Philips Momentum is its HDR support. The monitor supports DisplayHDR 600 which means it can boost its peak brightness to the 600 Nits. When we tried the HDR games and videos, the brightness was really enough to make your eyes peeled.
The software of the monitor is also quite easy to navigate, thanks to the single joystick controller on the back of the monitor. You can navigate through menus easily and change your settings depends on your choice. The adjustment of the height is also easy with the rail system, but you should be careful to not stuck your hands inside, there is lots of empty space in there.
"Philips Momentum can be used almost for anything"

Philips Momentum also has a feature called Ambiglow, it's just the monitor version of the Ambilight that can be seen on Philips TVs. With Ambiglow technology, the monitor can reflect the light and colours on the screen to the bottom of the monitor. That way, the ambience created for the experience could be much more enjoyable. But unfortunately, the Ambiglow feature is just present at the bottom, not on the sides or on the top of the monitor.
Long story short, Philips 4K Momentum monitor is one of the best monitors which can be used for both gaming, work and multimedia purposes. It's HDR support, low latency and adaptive sync features make it a great monitor for all purposes, if you need a good all-around product, you should definitely check this one!
If you are looking for a cheaper one check Philips 243b1 eco monitor.