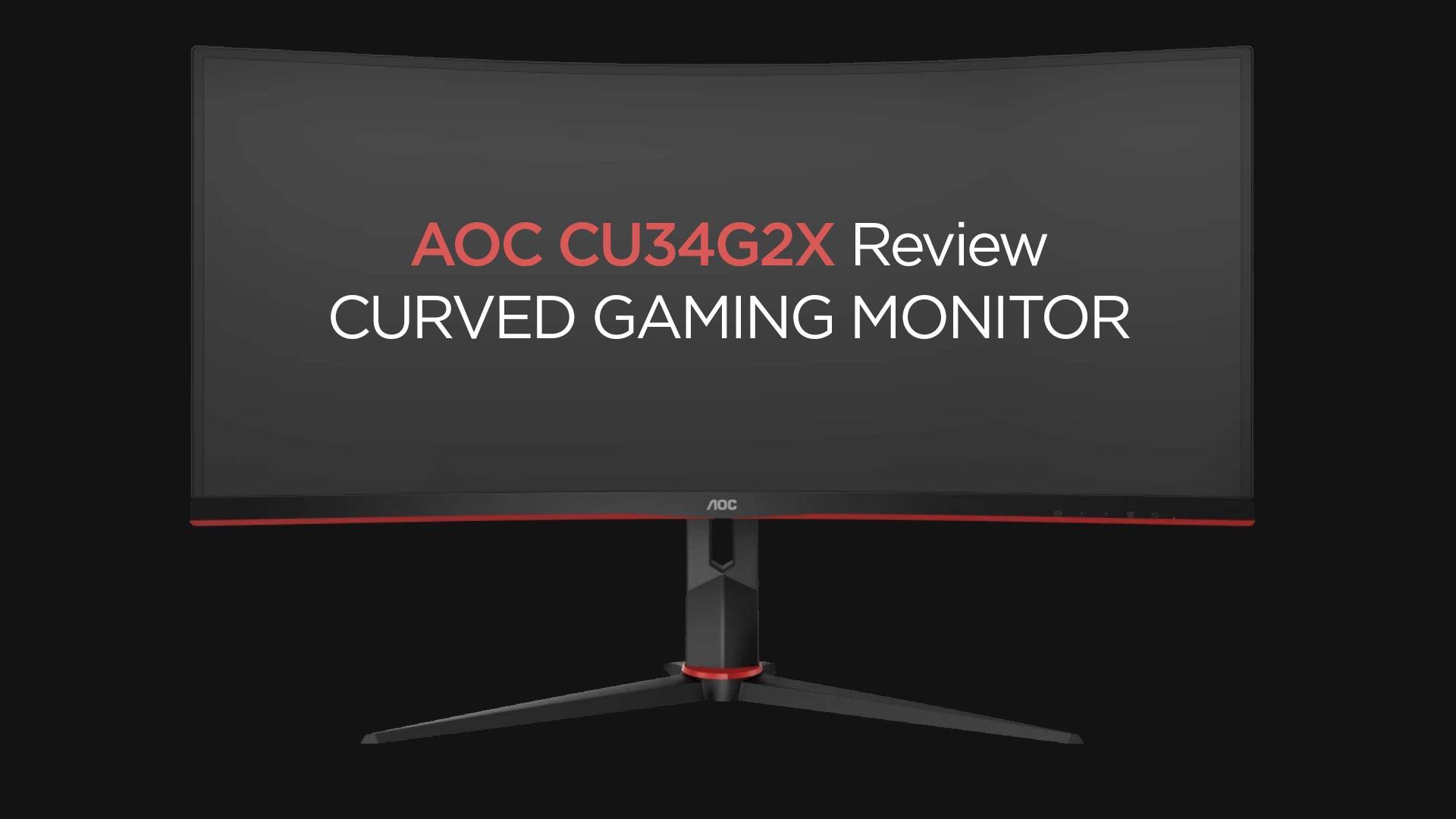 Nowadays, monitors getting bigger and broader. Also, you can find several curved gaming monitors on the shelves. They are produced and used for different purposes. But the development of the monitors are not only shaped-wise, but they are also developing technically. As a result, AMD FreeSync or Nvidia G-Sync became one of the most important developments for us. All we want is to get the best performance from our graphics card. We use our monitors not just for computers but also for our consoles. So HDR is also becoming essential for us. So let's take a look at our AOC CU34G2X review.
AOC CU34G2X Review: Curved Gaming Monitor
Today, we have AOC's 34″ CU34G2X Curved Gaming monitor in our hands. I had difficulties in bringing this monster to my home. Because it is vast in size, I really couldn't wait longer to experience this monitor. Because I know that AOC is excellent about gaming monitors so this one will be nice, too.
AOC CU34G2X has a 144 Hz refresh rate and 1 ms response time. With a 21:9 aspect ratio, the monitor represents us an ultra-widescreen experience. The monitor has a 34″ diagonal VA panel with 3440×1440 resolution. I want to add that, AOC CU34G2X is a gaming monitor, but it is also beneficial for the graphics designers. And the monitor has a price of 499 GBP.
What's Inside the Box?
Stand for the monitor
DisplayPort cable
HDMI cable
Power cable
Installation CD
Design
AOC CU34G2X has a slim frame as we are used to from the other AOC monitors. When we look at the monitor from the sides, we can see that it is thin (14,5 mm). There are five buttons under the screen that we can change the settings of the monitor. The backside of the monitor seems cool. The primary colour is matte black, and there are two red lines on that black surface. There are four USB ports, two HDMI 2.0, one display port 1.4 with 3440×1440 resolution support @144HZ on 100Hz, on the back panel. Both of the ports support Adaptive Sync.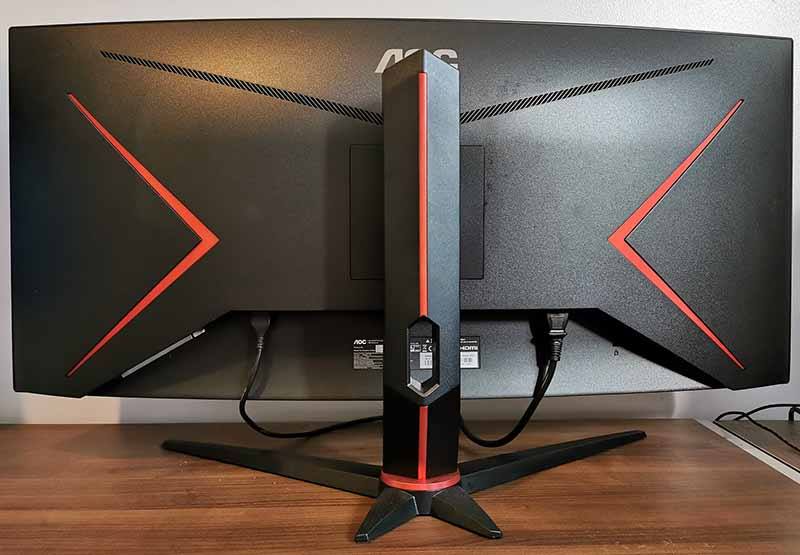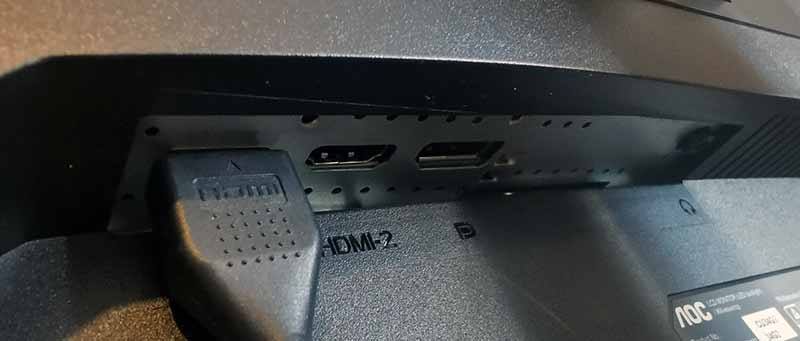 It is not possible to bend the monitor to the sides as we do on flat monitors. I don't think it is necessary to turn the curved monitor. When I finished setting up the monitor on my table, I said to myself, "Oh my God, this is huge!". And I want to say that I feel special.
First Impressions
As I said, this monitor makes you feel special. But what to do next? May be gaming? Yes! So I decided to play Rainbow Six: Siege with this considerable monitor. But the game only supports 16×9 aspect ratio, so that made me feel heartbroken. Maybe there are some settings for different rates, but I didn't want to waste more time, so I want to choose another game that supports 21×9. I decided on another Ubisoft game, Ghost Recon Breakpoint. I'm glad that this game supports 21×9. By the way, I test the monitor with my Monster Tulpar series laptop. I was afraid that it supports 4K, but fortunately, I was able to play the game on 4K without any problem.
I can easily say that monitor has high contrast while gaming. Increased static contrast provides excellent depth and atmosphere on the dark areas of the game. While playing the game, the details were so precise on the edges of the screen where it is less gamma. AOC CU34G2X has vivid colours while gaming. Explosions and flames were incredibly "real". But, sometimes I saw that saturation is not enough on the lower parts of the screen.
After my gaming session, I wanted to stream some videos. So I decided to watch South Park. Because I know that South Park is a colourful series, so I can see the colours and tones easily. Again, the colours were vivid. But, especially with matte colours, the saturation was low on the sides of the screen.
Nevertheless, it is right to say that colours and saturation were enough and well balanced. The viewing angle of the monitor is excellent. From a 70cm distance, I was able to see the whole screen without any problem.
AOC CU34G2X comes with six different gaming modes. These are FPS, RTS, Racing, Gamer 1, Gamer 2 and Gamer 3 and offer OSD ( on-screen display). But when you choose one of these modes, you won't be able to change some settings of the monitor. Most of these gaming modes provide more "sharp" display so you can see better images. Those modes don't affect input lag or response time. Of course, these modes are useful. Every method has its own "overdrive" feature. For example; FPS, RTS and Racing modes disable the luminance menu, colour setup menu and some of the "game settings". The "gamer" modes provide us to make some changes in the settings. But again, we cannot use the "colour setup" menu when the "gamer" modes are on.
The default settings of the monitor are also pretty good. It has vivid colours, but in some points, you feel its losing depth. Of course, you can change all these from the On-Screen Display menu. The monitor also includes some 'LowBlue Mode' Low Blue Light (LBL) settings. These settings are accessible in the 'Game Setting' section of the OSD. Into my opinion, an extra button for the Low Blue Mode would be much better. This mode changes the blue light ration of the monitor. It is known that blue light affects sleeping hormones. I tried the LBL feature in "reading" mode, and I can say that this feature is successful. My eyes didn't get tired and blurry.

AOC CU34G2X Review: Conclusion
After the tests I made, I observed that the monitor has 5,28 ms input lag. There is nearly no difference between Low Input Lag and Adaptive-Sync at 144 Hz. While playing a game or streaming a video, frame rate, and refresh quality was good. Low Input Lag works wonders about this situation. The monitor also has a Motion Blur Reduction (MBR) feature. First of all, I want to say that you cannot use MBR with Adaptive-Sync. I want to try MBR while I play Rainbow Six at 144 Hz. I fixed the monitor at 144Hz with "Boost" feature.
There is a big difference between MBR on and MBR off. Even when I moved my character fast, I could see the details without any problem. It was effortless to know the gaming area or my rivals even when I was moving fast. I can easily say that MBR feature is a great one.
To sum up, I can easily suggest this huge gaming monitor. I felt special while I am using it. But I can say that there are some saturation problems on the edges of the screen. Other than that, this monitor is a great one to have. Before I finish my review, let's take a look at the specifications of AOC CU34G2X.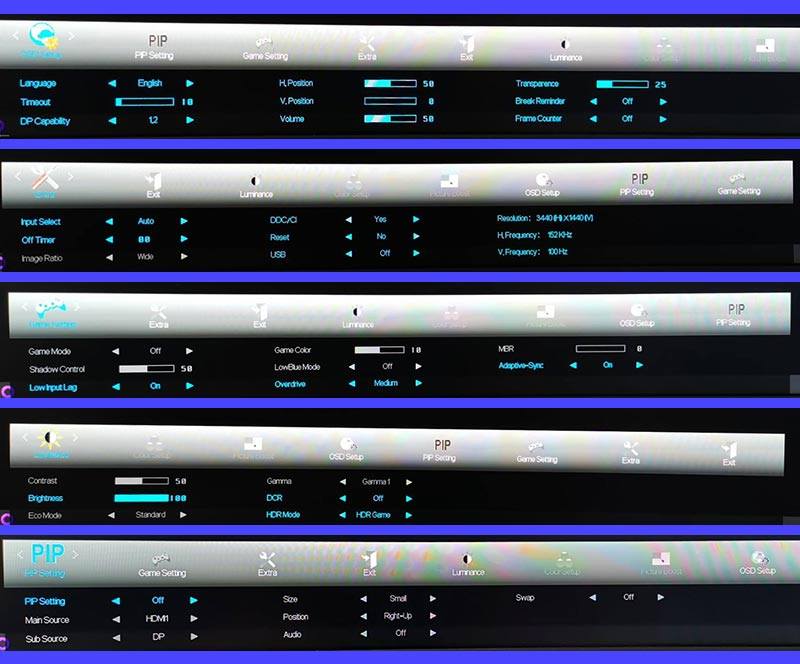 Specifications
Screen Size: 34-inch
Screen Curvature: 1500R
Resolution: 3440×1440 (UWQHD)
Panel Type: VA / W-LED
Aspect Ratio: 21:9 (UltraWide)
Refresh Rate: 144Hz
Response Time (GtG): 4ms
Response Time (MPRT): 1ms
Adaptive Sync: FreeSync (48Hz-144Hz)
Ports: 2x DisplayPort 1.4, 2x HDMI 2.0
Other Ports: 4x USB 3.0, Headphone Jack
Brightness: 300 cd/m2
Contrast Ratio: 3000:1 (static)
Colours: 1.07 billion (8-bit + FRC)
HDR: HDR10
VESA: Yes (100x100mm)
If you are searching for a cheap gaming monitor, you can read our AOC CU34G2X Curved Gaming Monitor review. Stay tuned, enjoy.