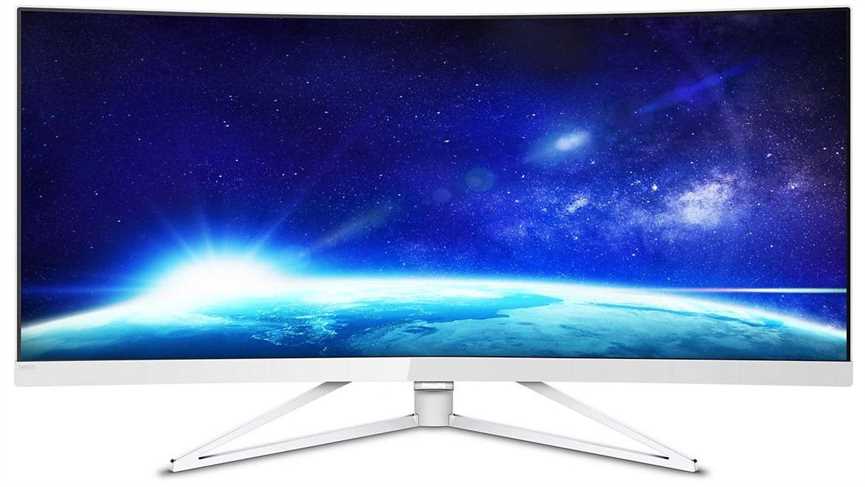 Philips is one of the first brands that come to mind when visual display technology is mentioned. Even though it may seem like it's losing popularity about TVs in recent years, it's still a favorite of costumers who prefer a more natural look. Philips, who is also quite prominent in the monitor market has managed to steal the spotlight with one of their newest, 349X7FJEW which bolsters an Ultra Wide Screen and diverse technical settings.
Let's take a look at what the monitor can provide for us.
Philips 34.9" Gaming Monitor 349X7FJEW Design
Philips 349X7FJEW has a 21:9 screen ratio. Due to this, it helps greatly with gaming, videos, and work. For example, getting a wider view of the area in FPS games gives you an advantage over the other players due to being able to see them from larger angles. While watching movies, it gets rid of the black outline for the majority of them, presenting a view rivaling that of real cinemas. For usage of Office, Premier for example, it makes it easier to see the duration of the video. That may sound like an unimportant benefit but it helps greatly with editing. The curved shape of the monitor benefits both the experience and offers usage of the spiral with much less effort.
Philips 34.9" Gaming Monitor 349X7FJEW Performance
Philips screens are famous for their natural look. Even though this causes the monitor to look lifeless and dark at first glance, it's possible to receive visuals much more colorful and realistic than other brands after a few configurative tweaks. Philips 349X7FJEW can also provide an even wider array of colors thanks to it's Ultra Wide-Color setting compared to standard monitors.
Philips 349X7FJEW has 3440 x 1440 resolution. This means the monitor has more pixel than 2K. With high resolution and ultra wide screen, the users who don't want to use two monitors, can perform multiple process at the same time.
Philips 349X7FJEW Properties
Aside from the capabilities already mentioned, Philips 349X7FJEW manages to present a clean view thanks to it's AMD FreeSync support and AMD screen card. Philips 349X7FJEW also diminishes input lag to a minimum, making it very beneficial for gamers. The lag is 4ms which is enough for most competitive games. Of course, it shouldn't be compared to monitors with 1ms as those often contain TN panels. Philips 349X7FJEW uses an VA panel instead and 4ms is very sufficient for it. Philips 349X7FJEW provides 3000:1 perfomance when it comes to static constrast, better compared to standard monitors of 1000:1. It's maximum brightness is 300 cd/m2.
Another important factor to gamers is the monitor's reload speed. Philips 349X7FJEW has 100 Hz reloading speed and can show 100 different squares all at once within a second, once again granting an advantage over the opponents. Thanks to the VA panel, you also keep maximum color quality while having a 178/178 degree view.
Philips 34.9" Gaming Monitor 349X7FJEW Other Properties
The mechanism on the backside of the monitor helps you adjust it to your comfort. It can be raised and lowered by 150mm while also giving access to -5 between 20 degree incline.
The monitor contains a DisplayPort 1.2, HDMI 1.4, HDMI 2.0 and 4 USB 3.0 ports and allows for fast charging. It has two 5W speakers and even though they don't do wonders in their category, they still meet the expectations.
In summary, Philips 349X7FJEW has won the approval of it's testers both for design and performance. If you are in search of a monitor that's natural and with great performance, you may not need to look much further.