We all knew that Call of Duty Black Ops Cold War file size is big. But the main issue here is that it gets bigger every day. Especially for the PS5.
Black Ops Cold War File Size is bigger than most games
We already know that Call of Duty games are big when it comes to size. That is no surprise. Especially since Warzone became official, the Black Ops file size has increased rapidly. The free-to-play Battle Royale mod will take lots of disk space away from you. You know what they say; Every good thing has its own price. Eh? Well maybe not.
Because when we take a look at other PlayStation 5 games we can see that the file sizes of these games are not pretty big compared to Black Ops Cold War file size. Black Ops Cold War actually takes up more space than Returnal (56.15GB), Ratchet & Clank: Rift Apart (33GB), and Demon's Souls (52GB), all of which are PS5 exclusives. That is pretty interesting.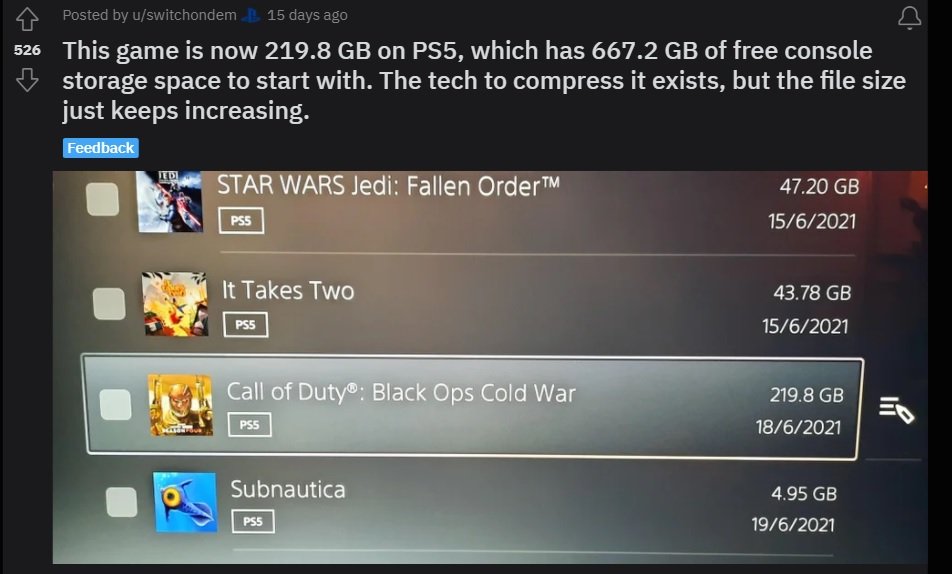 Redditor switchcondem also mentioned this issue. He mentions that the compression technology for this game exists. But strangely, the Black Ops Cold War file size still increases with every patch. Maybe there is a thing that we don't know that hinders them to reduce the file size of the game? We currently don't know yet but Activision has some other methods to lower the file size of the game.
First of all, if you start running low on free space, you may delete the unnecessary game modes. For instance, almost no one plays the single-player mode of Call of Duty Black Ops Cold War. If you have already finished it, we recommend you delete it. After deleting, the file size will be approximately 154 GB. Of course, that is not a small size but it's better than nothing.