Game Review
Discovering hidden gems: The best underrated UK slots of 2023
In this guide, we're diving into some of the most underrated UK slots of 2023. We explore some of the slots that are just as great as the hugely popular and famous options on the market but aren't quite so well known.
There are some games that are always going to be smash hits that are really popular in the world of slots. For instance, Eye of Horus Megaways is one of the games that is on television advertisements, and you will hear many people talking about it. You can even play the demo version for free. The game is made by Blueprint Gaming, and they also have a variety of other brilliant options on the market that aren't quite as well-known.
How we've chosen the best underrated UK slots
There are certain criteria that should always be considered when you are looking to play a new game, whether it is one of the most popular ones out there or not. In the case of casino games and slots, there are a lot of games out there that have excellent gameplay features but perhaps are not the best-known, and that's what we're focusing on, along with some of the following features and functions:
Bonus games and added features
A lot of the modern casino games and slot games have bonuses and added features. For instance, a lot of them have potential free spins that can be triggered, allowing you to play extra rounds of the game. Others have multipliers that can trigger to increase your potential payout.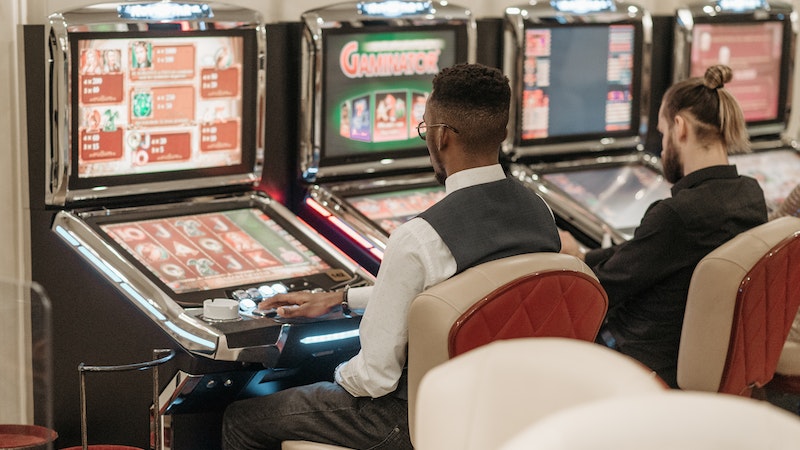 Ease of use
Nobody wants to play a game that is super complicated when there are other options on the market that are much simpler and easier to follow. The ease of use includes the controls, such as changing the stake and triggering spins, but also understanding things like the paytable and the paylines. Have you ever played a slot game and not fully understood when it was giving you wins and when it wasn't?
Critical acclaim
Games have a lot of different reviewers and even award ceremonies such as the Scottish Game Awards. While this is more for console games, there are plenty of reviewers checking out every single new slot game that comes out and giving them a rating as well as creating "best of" lists.
Theme and developer
Maybe you like a certain type of theme when you play your slot games. There's nothing wrong with that, and it is why there are so many games that have the same feel to them. Fruit machines and card symbols are obviously the oldest examples of themes in gaming. This dates back to the days of physical reels on a slot machine which tended to have fruit symbols on them.
Now, you can play ancient-themed games and feel like you're being plunged into an Indiana Jones film, or you can play games with fishing themes, hunting themes and a whole lot more.
Also, there is the potential to end up with a favourite developer. A lot of the developers on the market tend to have features that just resonate with people, or graphics they love.
Potential wins
There are a few different aspects to this. Casino games and slot games have something called a return to player (RTP) rate which is the ratio of the money that they take that is then returned to players as prizes. When choosing games, you will also notice that they have a maximum payout, this has to do with the game itself and the maximum amount that your stake can potentially win back. This can be 10,000x or even more.
Consider the casino you are using
Many of the best games are available at a lot of different casinos. This means that you should look around for the casino that is giving you the best deal, bonuses, support, and of course, security.
Welcome bonus
You may be offered a welcome bonus when you sign up to play the game at a new casino, this is always worth checking before you make an account, as you might need to enter a code.
Existing player offers and promotions
Bonuses and promotions aren't just for the new customers, or, at least, they shouldn't be. A casino should give you rewards for loyalty, and many do, including offers sent to your email address.
Payout speeds
Fast payout speeds should come with the territory these days, so pick a casino that can provide this. You should also be aware, though, that not all casinos have this under their control. Some payment services, such as Skrill and PayPal, can just take a little longer by default.
Casino games available
Of course, in this instance you are looking for a specific casino game that you want to play. You can check which casinos allow you to play the game as most have a search function, and you can also read reviews of the game before you play to see if you like it or even play a few rounds in demo mode.
Customer support
You should know you can rely on customer support if you need it. Hopefully, nothing will go wrong with your account, but if you do need a helping hand, it is good to ensure that the casino in question has customer support available 24/7.
Responsible gambling features
Responsible gambling is essential. Everybody should know about the risks involved and focus on their responsibilities, and this includes casinos and gaming developers. There should be support in place and access to lots of information to help you if you feel gambling is becoming a problem.
Sweet Powernudge
This game is not one of the absolute best-known on the market partially because it is pretty new.
It has a 6×5 grid and the symbols depict a lot of different types of sweets. When you match five or more in a winning combo then you will get a win, but the reels with those symbols will also be automatically nudged down. This means that you might continue to get wins off the same spin.
On top of that, the game has additional scatter symbols that can give you free spins. If you get more scatters in the bonus spins you can even retrigger the game with even more spins.
The game has a playful and jovial feel to it and though it hasn't been widely played yet, the Powernudge features could end up being very popular.
Eastern Dragon
This game has a Chinese theme to it with symbols that refer to mythology and ancient Asia. The theme looks very good and symbols such as lotus, carp and the dragon itself feature some great graphic design.
There are more animations and sound effects than a lot of the games by the same developer from the time (NextGen) and the awesome music includes the sound of gongs and an Asian theme that really does set the scene.
There are bonus options, and you can trigger up to 15 free spins and a 3x multiplier. Overall, there is the chance to win 9,000x your stake playing this game.
Moon Shadow
Moon Shadow is made by Barcrest. It has a classical look and a maximum payout of around 400x. You can play up to 20 lines, depending on how much you wish to stake, and you'll find that there are plenty of animal friends among the symbols, including an owl and a wolf.
Like a lot of these other games, Moon Shadow has the potential for free spins and multipliers to trigger, adding more potential to win in the game.
Time is Money
Time is Money slot offers something a little bit different for the players who are bored of the same old symbols and gameplay, with the theme of time.
The game has a 5×3 reel setup and the controls are super simple. There are also 20 different paylines as well as bonus symbols such as Wilds and Scatters. One of the things that sets this game apart from the rest is the fact that it offers the chance to win up to 48 free spins if you match enough Scatter symbols. The game's logo is the Wild symbol, and this can be used as a substitute to complete wins with all the other symbols in the game.
This quirky game has an interesting backdrop and some great graphics, and as we've said, it offers something a little bit different for players.
Summary
What do you think of our selection of underrated slots? There are so many slot games on the market now that you will never run out of options to try, but it is good to know what some of the better choices out there are. With these original slot games, you will be able to explore different developers and different themes as well as being able to say you're not playing the same mainstream slots as everybody else!