The mouse, which is the backbone of the player accessories, continues to appear with new features and different designs day by day. I can say that the HyperX Pulsefire Dart model, which we will examine today, is both connected to the classical lines and comes to the fore with its renewed features. So what are the features that make this mouse special?
At this point, you probably need a station where you can also charge the headphones of HyperX. Because when we tried different wireless charging stations, we found that there was no charge. If you have a phone or an adapter for different devices in your new home, it probably won't work. And you will only be able to charge it with its cable. If you have a Qi-certified charging station, I guess it will probably work just like HyperX's own charging station model. Since I don't use its own charging station, I can't say anything clear about it. Let us also remind you that the wireless connection speed is 2.4 GHz. The delay time between the computer and the mouse here is limited to 1 ms. So, we can say that it is quite fast even in wireless use.
What's the important advantage of the HyperX Pulsefire Dart model?
Here, the HyperX Pulsefire Dart model has an important advantage over similar models. When you use it wirelessly under normal conditions, the mouse battery offers you around 50 hours of use. I had no need to charge with the cable for about 7-8 days of use. If you want to continue your game or work when you use wireless, you can instantly plug in the cable and continue where you left off.
When we look at the design of this model, we see that it actually preserves the classic HyperX lines. HyperX Pulsefire Dart model, which has a very plain yet elegant look, has 2 function keys on the left side. Apart from these keys, which we use in a classic way back and forth, the dpi adjustment button is positioned just behind the mouse wheel. This button is quite small and placed on the mouse with minimum protrusion. The dpi button, which has 3 different modes in the presets, has slow, medium and fast settings. You can reach 800, 1.600 and 3.200 dpi, in these settings. Of course, it is possible to increase this value up to 16.000 by making special settings.
Another feature that draws attention in the design is, of course, RGB lighting. Again, with its own software, it is possible to change the lights on the HyperX logo and on the wheel as you wish. By the way, a material made of artificial leather was used on the right and left handles of the mouse. The rubber material is coated on the wheel. In this way, I must say that the grip is more comfortable and pleasant in terms of ergonomics.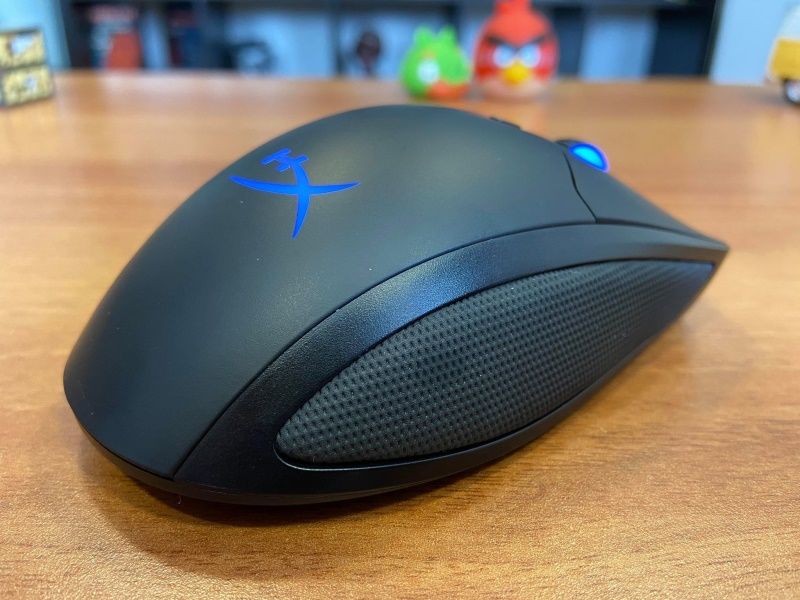 As a result, HyperX Pulsefire Dart is one of the first models to look for if you're looking for a wireless mouse.
HyperX Pulsefire Dart Technical Specifications
I can say that the product, which attracts attention with its stylish design as well as its features, has been one of the products I enjoy using recently. Let's take a look at the technical specifications;
Sensor: Pixart PMW3389
DPI: up to 16,000 DPI
DPI Presets: 800/1600/3200 DPI
Speed: 450ips
Acceleration: 50G
Number of buttons: 6
Left / Right button switches: Omron
Left / Right button durability: 50 million clicks
Light effects 3 per RGB lighting per LED
Onboard memory: 1 profile
Connection type: 2.4 GHz wireless / wired
Battery life: 90 hours – LED off / 50 hours default LED Lighting
Charging type: Wireless Qi charger 1 / wired
Interrogation speed: 1000Hz
Cable type: Removable charge / data cable
Weight (without cable): 110g / 150g (with cable)
Dimensions Length: 124.8 mm
Height: 43.6mm
Width: 73.9 mm
Cable length: 1.8 m
HyperX Pulsefire Dart Wireless Gaming Mouse Review
First of all, I would like to talk about wireless usage, which is the most important feature of the HyperX Pulsefire Dart model. Both the cable and the receiver come out of the box contents. In addition to the wireless feature, you can use this model with wired if you wish. Along with this cable, there is an apparatus that you can connect the receiver. The cable is quite long and you can expand the coverage area by plugging the receiver here with the USB slot on the apparatus. You can also charge the Dart model by cable, or if you have a suitable wireless charging station, you can also charge it.