Ladies and gentlemen, please welcome MSI Trident 3 review. Because of the widespread use of consoles and its compact structures, we can easily place them around our TVs. They are also more portable because they are smaller than the general computer cases. Nowadays, consoles are one step ahead of computers in terms of game and entertainment purposes, based on the fact that the ease and comfort of the product being used is a big plus. For this reason, brands such as MSI aim to drive forward powerful PCs by making them in console sizes.
MSI Trident 3 Review
Today, the console size MSI Trident 3 is our guest. We will take a closer look at the technical specifications, design, and performance.
MSI Trident 3 Technical Specifications
There are many different MSI Trident 3 models available in the market. Some of these products have the 6th generation, some of them have the 7th generation and some of them have 8th generation of processors. Moreover, some have 256 GB SSD, while others have 128 GB. For these reasons, we will inform you about each part of our system individually.
MSI Trident 3, powered by Intel's 8th generation 6-core 8700 processor, didn't care much for overclocking enthusiasts. This is due to the fact that the non-K models of the Intel processors have the clock multiplier off. In other words, you can't do overclocking with this model.
On the graphics card side, the 6GB GTX 1060 from the previous series of NVIDIA's RTXs is available on this model. We can specify that the graphics card is slightly lower than the processor. People who follow game and technology world knows that the biggest factor that affects performance is the graphics card. We should mention that the GTX 1060 can handle all the games in full HD easily, but it's a bit pale in comparison with a processor like the i7 8700.
The storage units are equipped with a 128-GB Intel-brand NVMe-supported M.2 SSD and a hard drive of 1 TB at the speed of 7200 RPM. You can store some of your programs and games in SSD. The rest may remain in normal storage. Speaking of storage, let's emphasize that MSI Trident 3 has 16 GB RAM. These memories are DDR4 with a speed of 2133 MHz.
Design
As we mentioned at the beginning of our MSI Trident 3 review, the MSI Trident 3 looks like a new generation console. You can position it horizontally or vertically, it comes with a device that helps you place it horizontally. Note that it has a rectangular shape. The front side of the device has a headphone, microphone, USB Type C, two USB Type A 3.1 ports and one HDMI input for VR Link. On the back, there are Ethernet, five USB ports and HDMI, VR Link, 3 audio inputs. On the graphics card, there are two HDMI, 2 DP, and one DVI connection.
MSI Trident 3 Review and Performance Tests
We have made various tests for SSD, processor and graphics card. We have to mention that we did the game tests in full HD and 2K resolution. In addition, the anti-aliasing is opened through the NVIDIA Control Panel. NVIDIA's software offers higher performance and better visual quality in games. We used CineBench R15, Crystal Disk Mark and AS SSD Benchmark for SSD, PUBG, Rainbow Six and 3dMark in video card tests.
CineBench R15
Let's start to MSI Trident 3 review with CineBench R15 test. It got 186 points for single core and 1283 points for multi-core in CineBench, which has been used in processor tests for many years. It managed to offer 129.96 FPS in the test that forced the video card through OpenGL.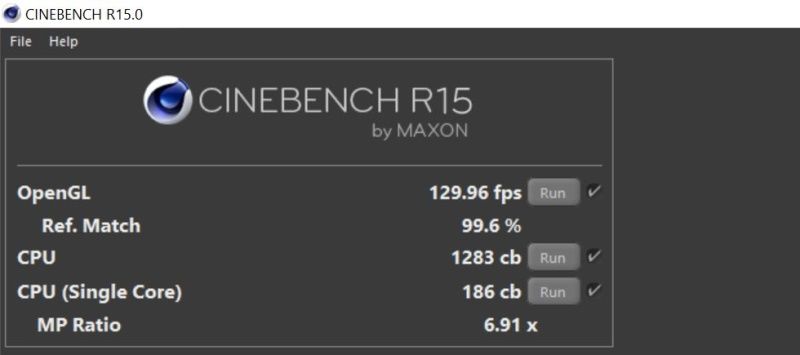 Crystal Disk Mark
It got 772.9 points in sequential reading and 385.9 points in sequential writing. However, in the 4K test which is important for daily use, it was able to get 31.90 points in reading and 109.8 points in writing. These numbers are below average. Because NVMe-supported SSDs like Samsung and Corsair can reach much higher speeds.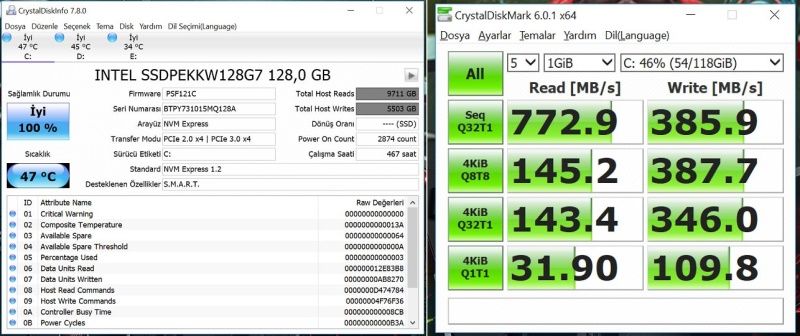 AS SSD Benchmark
We continue with an SSD test. The SSD in the MSI Trident 3 was able to obtain an average score of 235 for reading and 441 for writing in the SSD Benchmark test. The average of all results reached 789 points.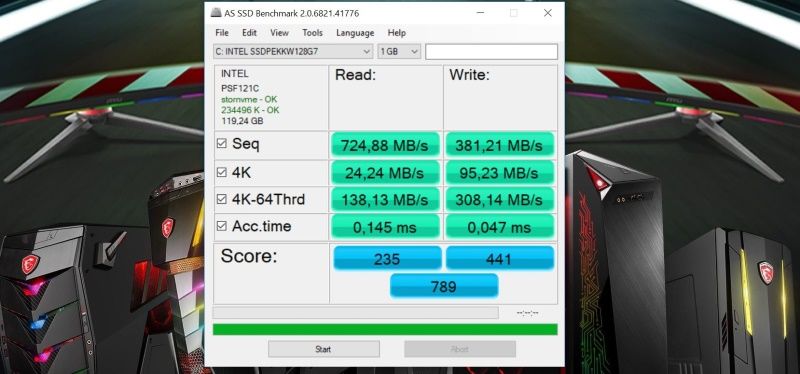 PUBG
We were able to play PUBG in 2K resolution at an average of 40-45 FPS. Of course, FPS drops occurred due to the optimization of the game. Graphics card worked at an average of 74 degrees while working with full power. In Full HD, the GTX 1060 performed between 60-70 FPS with the same power and the same temperature.
Rainbow Six
Another popular game of recent times, we were able to play the Rainbow Six Siege at an average of 42 FPS at 2K resolution, while the GTX 1060 worked at full power at 73 degrees. In Full HD, it offered a comfortable gaming experience with an average of 70 FPS.
3DMark
Let's take a look at the 3DMark results, which are essential for computer reviews. It got 12426 in the graphics score, 18628 in physics, 4640 in the combined section and 11115 in the average section in Fire Strike test. It was able to get 5905 in graphics, 18567 in physics, 2610 in combination section and 5766 in average section in Fire Strike Extreme Test, which runs at 2K resolution.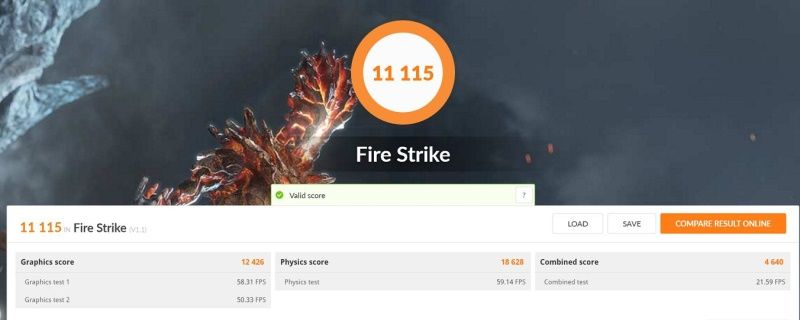 Summary
It's a really nice computer for those who care about portability and size. It looks like MSI Trident 3 is going to be far superior to consoles in terms of Full HD gaming.