Article
What are esports game apps? The easiest way to engage and be connected with your favorite community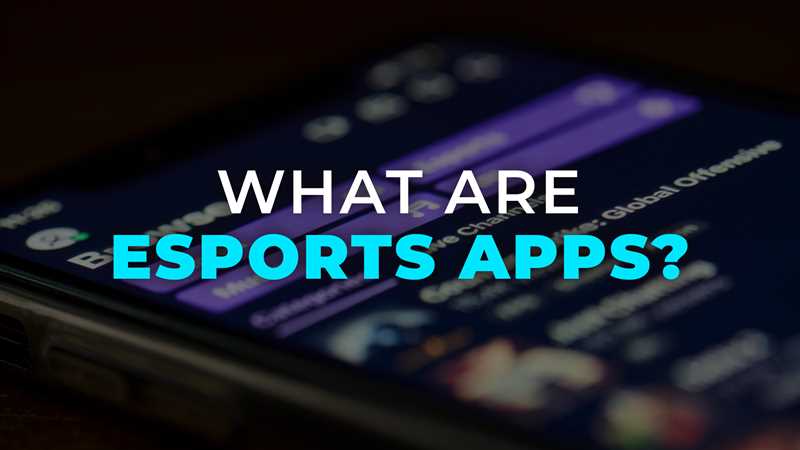 Smartphones are among the most popular electronic devices in the world. Their computing and graphic power can often be compared with some mid-range computers while being more accessible and easy to carry around. That helps to explain the reason why esports games on this scene are so successful. You can watch major events, interact with fans of your favourite discipline, read esports news with esports game apps.
The future is made by each esports game app
Let's see which are some of the best esports apps.
In fact, if we look at numbers from the Free Fire World Series 2021 Singapore, we might get shocked by them. Analytical agencies deem the event to have the biggest audience among all esports events (if we disregard numbers from the Chinese League of Legends). That's an enormous achievement for mobile players and viewers, as well as for the esports market as a whole.
Therefore, it's not a hot take to imagine that the future belongs to mobile gaming. And that's why the never-ending integrations, expansions, and mobile app development matter so much. Nowadays, there are many activities you can do directly on your smartphone: read the incoming news, play and broadcast an esports title, get some revenue, sometimes, or create your perfect squad in the game you like the most… To fully understand and embrace the esports world, getting into those apps is key. Let's see which ones are the most popular!
Join the crowd and get to know esports: essential apps
Every esports fan has heard about Twitch. Their esports game apps are simple yet powerful: you can watch and subscribe to your favourite streamers and channels, or broadcast some games live. They have streamers in nearly every language, from pro gamers to singers, and the communities created there can last forever. The app is available for both Android and iOS, and it's an absolute must-have if you'd like to be a part of the esports community. It's the biggest take in the streaming platform market; the Twitch app has almost the same functionality as its desktop version.
The second most popular esports app is… YouTube. With a variety of content, you can be sure to find your favourite creator there with recorded videos or even live streams. The app is somewhat easier to use than Twitch, though its chat system is worse, but its power consumption is significantly smaller. As most people already have their YouTube app by default, checking the esports section of it might be an interesting option.
Keep in mind that esports technologies are not only made by broadcasting. Content is made across multiple fronts of the esports industry, and getting to know about upcoming tournaments, for instance, builds the hype, making sure you won't miss your favourite live content. In that sense, Upcomer Esports is my personal to-go. The app covers the most popular titles, with the latest news, VODs, upcoming matches (hence its name), stats of live esports match events, and more. It's also an iOS and Android app, and its content is spoiler-free.
Discussing information, checking the stats of esports events, players and organizations is an important method to better understand your favourite esports games. That's where Strafe Esports, an esports games app, shines. Recorded data from your favourite teams and tournaments can become such an immersive experience that you may lose countless hours just checking it. It also has a prediction game to test your future-sight skills and has tailored news from the titles you select as interests. We can make an honourable mention for EFORCE Esports as well, with its match schedules, tournament status, and highlights. Don't count on real-time match stats, however.
Last but not least, there's the well-known Discord. Besides the mobile app, it's available on PC as well, and it provides chat channels (both voice and text) that are completely customizable. It's a very good way to know your favourite esports community better, track streamer activity, have an in-game voice-over (for games like League of Legends, Dota 2, Counter-Strike: Global Offensive, and others, whose in-built voice chat is not really great), and you can even integrate it with other apps to have a really nice way to dive into the community.
Do I need a powerful device to run an esports app?
As a rule, a great esports games app should be fairly light. Most of them don't overconsume battery, neither require insane graphic power to be fully appreciated. However, app users that have a fairly older device can expect some trouble: most applications (in general, not only esports) have a high RAM consumption, and it might be frustrating to see your favourite live-stream scattering to pieces.
Mobile esports games also usually don't require high-end mobile devices.
Digging a bit further: tailor-made esports apps
If you're already among esports fans, and you're ready to take it to the next level, many tournament organizers have their own mobile app. They have different uses, but in general, you can read up on the upcoming events, follow the news of a company, or even find a tournament for yourself. The most well-known one is probably the ESL Event App, covering ESL events. However, other tournament organizers such as WePlay Esports have their tournament/esports app, setting the bar high for their events on the whole. You can get them from the Apple Store or Google Play Store.
There are games about video games, and there are many interesting apps in that sense. For instance, the Esports Games app is very fun —you can test your knowledge with questions in a trivia game about your favorite esports. Another great app option to get match notifications, real-time scores, and play a fantasy game as well is Sleeper, which allows you to manage a League of Legends team while you get slime real-time statistics. There's even a global leaderboard! Fantasy games are quite popular in the largest esports leagues, so I'm pretty sure you'll find an option that suits your style!
We can also consider betting apps as part of the esports culture. It's embraced by betting companies just like traditional sports, and many esports game apps promote safe betting and allow you to use, at your own discretion, another way to have fun.
Are extensions considered esports game apps?
Creating esports content is very important, therefore there are lots of companions, in-built APIs that help to analyze, understand, and engage with your favourite game. On Twitch in particular, you can predict winners, see in-depth stats, earn rewards, and generally do much more while watching the live stream, depending on the title. That alone is a very interesting premise, making those integrations one of the most important features in any esports app.
However, those in-built customizations, overlays, and such, are not considered applications. Despite its importance to esports technologies, we're only talking about independent esports game apps to avoid confusion. You can take a look at more apps at the article: https://weplayholding.com/blog/esports-apps-how-to-give-the-crowd-even-more-fun/
Popular mobile esports games
Mobile gaming is a reality, and it already has events comparable — or even bigger — to the PC gaming esports scene. Thus, joining this world can be a way to dive into everything esports has to offer without the need for a gaming console or computer. With a combination of the mentioned esports game apps and the most popular esports games, you can not only have fun playing your favourite games, but also collect data, see real-time statistics, and read news about the disciplines!
PUBG Mobile
The biggest mobile discipline, PUBG is a battle royale where the rules are simple: kill or be killed! To do so, you will need to find your weapons, create shells, and have a really good aim. Very popular all around the world, the game has distributed $16 million as total prize money during its history (making it the #11 among the highest total prize money games), and that number tends to rapidly grow.
Free Fire
As previously mentioned, Free Fire has an impressive audience and player base numbers, being a very successful video game played on mobiles. It's a first-person shooter with different objectives across the map. The Free Fire tournament in Singapore had a $2 million prize pool.
Wild Rift
League of Legends is a phenomenal success, so why not adapt it for mobile? It took long, but in 2021 Riot Games finally released Wild Rift — or a mobile version of League of Legends. The game got an interesting and unique mechanic, and from its early general impression, it's here to stay.
Summarizing everything
An esports app is not necessarily a game — it's a way to generate interesting content, engage viewers, and even activate brands.
In that sense, applications that enable and remind viewers, fans, and enthusiasts to read and know more about their favourite games, tournaments, and players, or else enhance the experience through esports in general, are a very important tool among esports technologies — and it's really fun to watch, read, play, and talk with the community.
Many great esports game apps bring professional players and the crowd closer. Whether you want to get match notifications or like to answer trivia, those esports game apps can connect you to the best that esports has to offer.