Game News
Worms Rumble Spaceport Showdown Trailer Released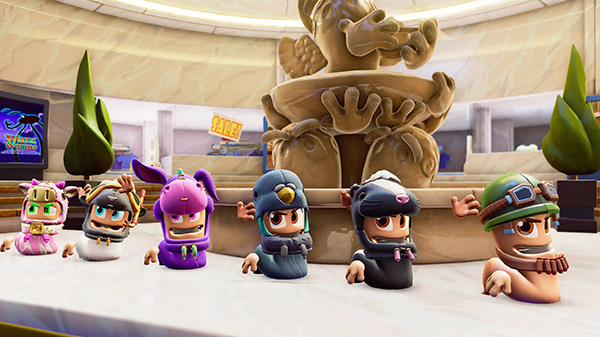 Worms Rumble game developed and published by Team17 has arrived on Xbox Series, Xbox One, Switch consoles. In addition, it was announced that it can be used for Xbox Game Pass. The real-time action game of the long-running series, Worms Rumble, was first released for the PC platform via PlayStation 5, PlayStation 4, and Steam in December 2020. The physical version of Worms Rumble will be released for all platforms on July 13. Team17 has also released a free update for Worms Rumble that adds the new "Spaceport Showdown" arena across all platforms. Finally, you can watch the Worms Rumble Spaceport Showdown trailer from the player below.
Worms Rumble Spaceport Showdown Trailer Released
Here are the latest details, via Team17.
Spaceport Showdown
Set far above the stratosphere, the Spaceport Showdown features a new, randomly generated, low-gravity mechanic that slows the action down during battle and joins the existing available maps: Deadly Dockyard, Battlegrounds Bank, Missile Mall, Portal Park, and Transforming Towers.
New extra-terrestrial premium skins, banners, and emotes will help acclimatise the weapon-toting annelids to their new surroundings.
Console-Exclusive Skins
A free exclusive outfit, the Series Green Hoodie, will be available to Xbox players, while those on Nintendo Switch can enjoy the free Patchwork Bear outfit.
Finally, you can watch the Worms Rumble Spaceport Showdown trailer from the player below.
Here is an overview of the game, via Team17:
About
Worms Rumble is Worms like you've never played it before, with intense, real-time, arena-based 32 player cross-platform combat. Get ready for frantic Deathmatches and intense Last Worm Standing!
Use a variety of fan-favorite weapons like the Bazooka, Shotgun and Sheep Launcher plus all-new additions to the armory to bring the pain to your invertebrate opponents as you climb the ranks. Customize your worm, take part in challenges and seasonal events and experiment with new ways to play in The Lab. This is Worms, reinvented.
Key Features
The First Real-Time Worms! – You won't find any turn-based combat in Worms Rumble. Every round is in real-time! If your enemy is raining fire upon you, give them heck right back!
32-Player Cross-Platform Multiplayer – Play with friends online across console and PC. With Deathmatch and Last Worm Standing solo and squad battle royale modes available at launch!
Classic Weapons with New Ways to Play – Arm yourself with new and returning fan-favorite weapons! With classics like the Bazooka, Holy Hand-grenade and Sheep launcher and the all-new Hammerhead, Plasma Blaster and Rocket shield.
Events, Challenges, and "The Lab" – Take part in seasonal and community events, and daily challenges for additional XP and in-game rewards. And experiment with new gameplay mechanics and weapons in The Lab. Each week brings new experimental game modes with new fun ways to play!
Player Customizations – Earn XP and in-game currency to unlock and purchase weapon skins, outfits, accessories and emotes! Mix and match to create your own personal style on the battlefield.