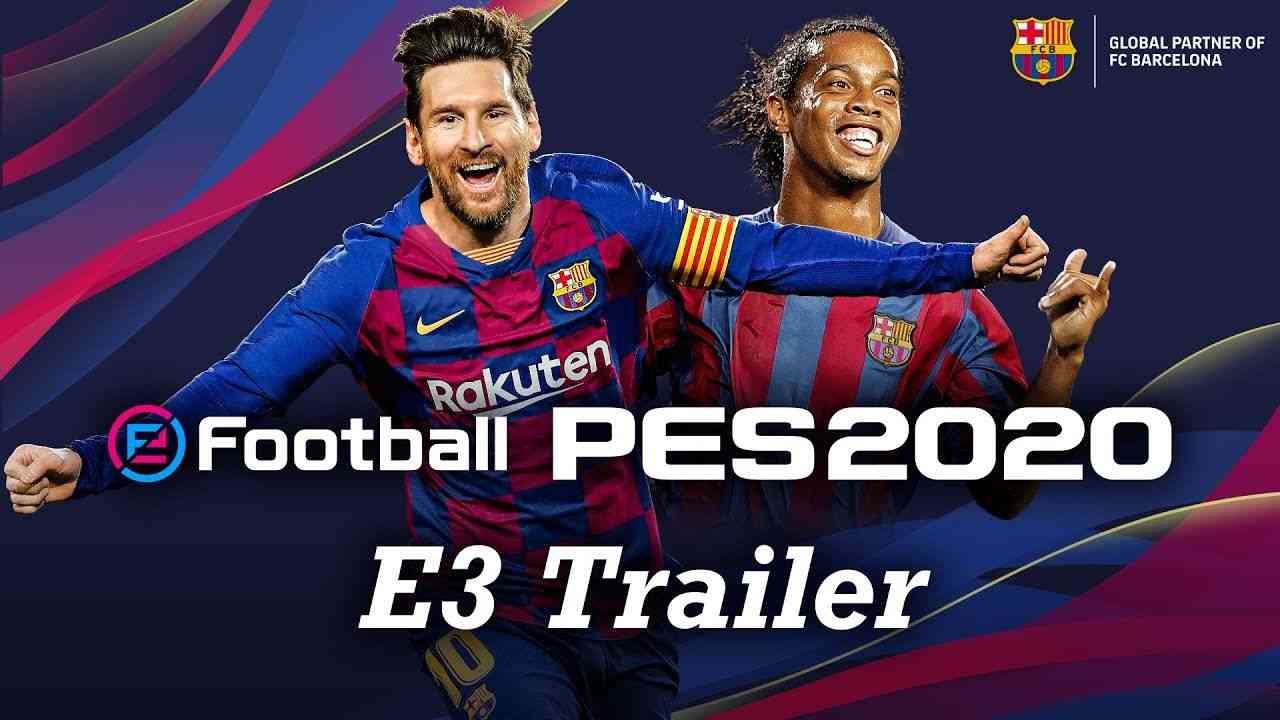 Konami announced today at the 2019 Electronic Entertainment Expo (E3) details of the next installment in the PES series, eFootball PES 2020 (PES 2020).
Headlined by the global superstar and FC Barcelona forward Lionel Messi, the standard edition of PES 2020 is available to pre-order today on PlayStation®4, Xbox One™, and PC STEAM for £59.99 RRP.
eFootball PES 2020 Game Trailer Video
https://www.youtube.com/watch?v=fK3_uf8FLHc
"I am very happy to be on the cover of eFootball PES 2020. Since I was a little kid, I have always looked forward to seeing who was going to be on the cover. Now my son plays the game, and I have to say that he's very excited that it's going to be me. He's even asked me several times why I was not on it, so I'm really happy now that I am," commented Lionel Messi, professional footballer, and current FC Barcelona forward.
Players can also get their hands on the digital exclusive LEGEND EDITION, featuring Brazilian icon Ronaldinho himself for £79.99 RRP. Other bonuses of the LEGEND EDITION include an exclusive 3D-scanned 2019 version of Ronaldinho and Messi on a 10-match loan for myClub. Everyone who pre-orders either digital edition of the game will get Andrés Iniesta and 1,000 myClub coins on top.
PES 2020 ushers in a new decade of industry-leading football simulation with a bold promise to revolutionize eFootball and introduce the sport to a global audience. The PES series continues its dedicated pursuit of realism, taking consideration of fan feedback to bring several impactful changes that instill every moment of play with a sense of complete freedom and control. Key changes include a remastered version of Master League, a brand-new mode called Matchday and a completely overhauled visual identity for in-game menus.
Jonas Lygaard, Senior Director Brand & Business Development at Konami Digital Entertainment B.V. added: "Today's announcement of eFootball PES 2020 and our new positioning recognizes this company's commitment to the emerging sport of eFootball and progress we've made in that direction with previous PES titles. With KONAMI's continued investment in the PES LEAGUE and eFootball.Pro tournaments, plus our dedication to continually raising the bar for football simulation games, we've never been more excited for the future of the eFootball PES series."
Enlisting the expertise of legendary midfielder Andrés Iniesta has shaped the latest installment with a renewed focus on immersion and authenticity, translating his innate ability to read the space around him and slip through the tiniest cracks of an otherwise impregnable defensive line into a new dynamic dribbling technique; the Finesse Dribble.
Renowned as one of football's most entertaining players, Ronaldinho's unique style of football is also coming to PES 2020, featuring animation sets that allow players to move like the man himself, using unparalleled technical flair and fluid movement to beat defenders, together with showboat first-touch techniques such as chest and back control.
Master League Remastered
Huge changes are coming to fan-favorite mode Master League, headlined by a powerful new interactive dialogue system that puts the reins firmly in players' hands when it comes to controlling story progression. This enables players to choose responses that suit their personality to drive progression and create their own personal Master League story.
The transfer market in PES 2020 will also feature a brand-new algorithm ensuring that transfers, transfer fees, salaries, and other elements are in close alignment with reality.
Further additions include:
Create and customise sponsor logos that will be displayed on the media backdrop during interviews and on the Master League main menu screen
Customise manager models with a greater level of freedom thanks to high-performance 3D scanning technology to capture images of individuals of varying body shapes and sizes
Or play through Master League using one of several legendary managers as your avatar, including Zico, Cruyff, and Maradona

Brand-New Mode: Matchday
In a brand-new mode for ES 2020, Matchday distills the essence of football culture into a competitive format that lifts players out of the spectator stands and puts them onto the pitch. Align yourself with one of two different sides at the start of each weekly event, where every perfectly placed pass and show-stopping goal unleashed contributes points towards victory.
Stand alongside PES newcomers and seasoned veterans alike as you work together to build an advantage for your side ahead of the Grand Final. As each weekly event enters its final phase, the results from all Group Matches played are analyzed to find the best performing user from each side. These users are selected as Representatives, earning the right to compete in the Grand Final on behalf of their chosen side – fully viewable via a live stream feed in Matchday mode.
Additional game features:
Beyond Master League and Matchday, numerous significant changes have been made to PES 2020 as a direct result of fan feedback. This includes upgraded trapping mechanics and new techniques; context-sensitive kick accuracy; more realistic defense and the addition of the intentional foul; an adaptive player interaction system that recreates player personalities on the pitch; and much more.
The beautiful game has never looked better this year, with PES 2020 introducing an enhanced lighting engine, improved player models, realistic cutscenes and replay footage, plus a completely new preset camera angle that offers a compelling broadcast feel.
eFootball PES 2020 will be available on PlayStation®4, Xbox One™, and PC STEAM on September 10th (Americas/Europe) / September 12th (Asia). Available in two editions, the incomparable Lionel Messi will feature as the cover star for the standard edition, and with Ronaldinho as the cover star for the LEGEND EDITION (digital only).