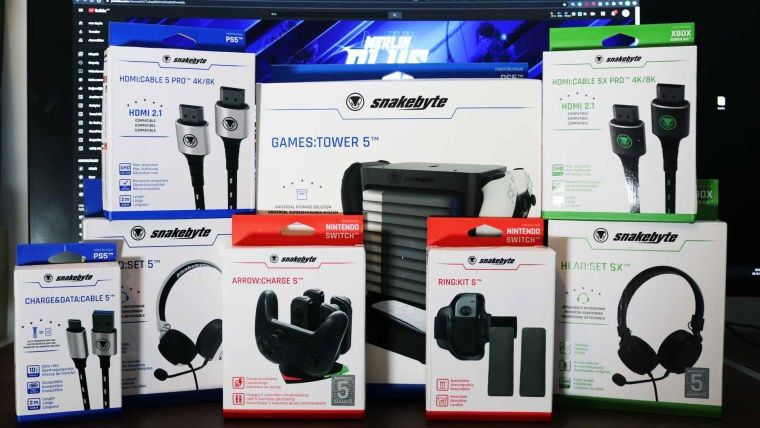 Snakebyte offers a wide range of interesting accessories for consoles and computers. We wanted to try them for you and asked some of those accessories from the company. The company didn't reject us and sent them in a short time. They sent us some products that offer you better gaming sessions at an acceptable price. In this article, we will try to focus on Snakebyte Gaming accessories for consoles.
Snakebyte Gaming Accessories for Next-Gen Consoles
PlayStation 5 Accessories
Gamestower 5
I think one of the biggest problems for PlayStation users is trying to find a good place for the controllers and the games. As there are lots of stuff, it is inevitable for them to scatter around your room. To organise this mess, Gamestower 5 is a great solution. You can put 10 games in this small box and also you can hang four gamepads on it. Of course, you can also hang your headphones, too. You can put some small things in the mini-drawer of the box. It is pretty easy to assemble the tower, but I cannot say the same for disassembling. I can say that it is pretty difficult. If you want to keep your table tidy, Gamestower 5 is the best product for you with a price of 17,99 GBP. You can buy it on Amazon by clicking here.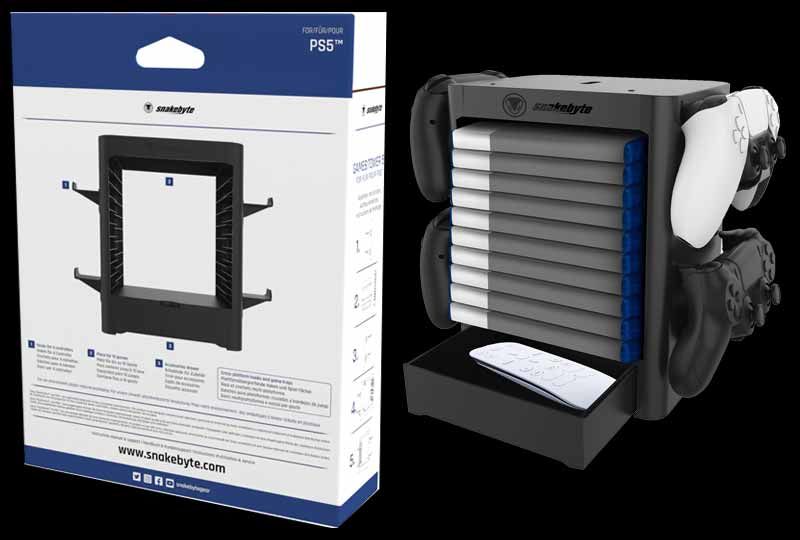 Headset 5
This product is a PlayStation 5 exclusive. I can say that the product is really light-weight. When you take it out from the box, you see a not so special but pretty functional product. It has a 1,2m cable, and you can use it on your mobile phones with its 3,5″ jack. The headphone's microphone is removable. There is a self-sticking rack in the box, so you can hang your headphones wherever you want. The pads on top of the product offer you a comfortable use in long gaming sessions. You can adjust the volume with the button on the cable. The product has two colours, black and white. The price for the headphones is 15GBP, and it has five years guarantee.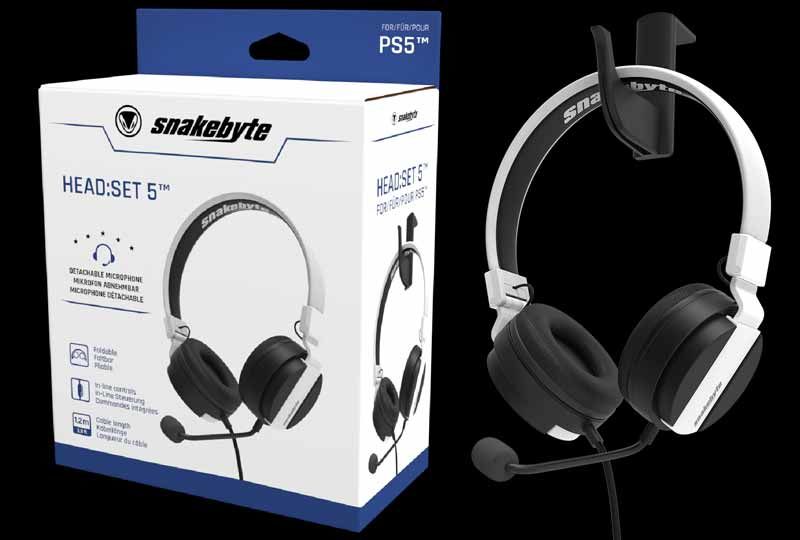 HDMI Cable 5 Pro
Even PlayStation 5 has its own HDMI 2.1 cable, with Snakebyte HDMI Cable 5, you can play your games with 7680×4320 resolution with 4K and 5K support. Its reinforced cable prevents unwanted breaks and bends on the cable. The cable has a 2m length. You can also use the cable with your PS4 Slim and Pro. The cable supports HDR/HDR10+, Dolby Atmos & Dolby Vision, Auto Low Latency Mode, DDCP 2.2 and HDMI Ethernet Channel. The price is expected to be around 18,99GBP.
Compatibility
30/60/120 Hz/FPS on 8K
50/60/120/144 Hz/FPS on 4K
60/100/120/144/2240 Hz/FPS on 1440p
60/120/144/240 Hz/FPS on 1080p
Charge/Data Cable 5
Even we can see a charging cable on reviews, it is said on the official web site that there will be no Type C charging cable for Dual Sense controllers. So we should be prepared. The length of the cable is 2m, and it supports 3.2 Gen 2. The cable can be used for charging and also for data transferring.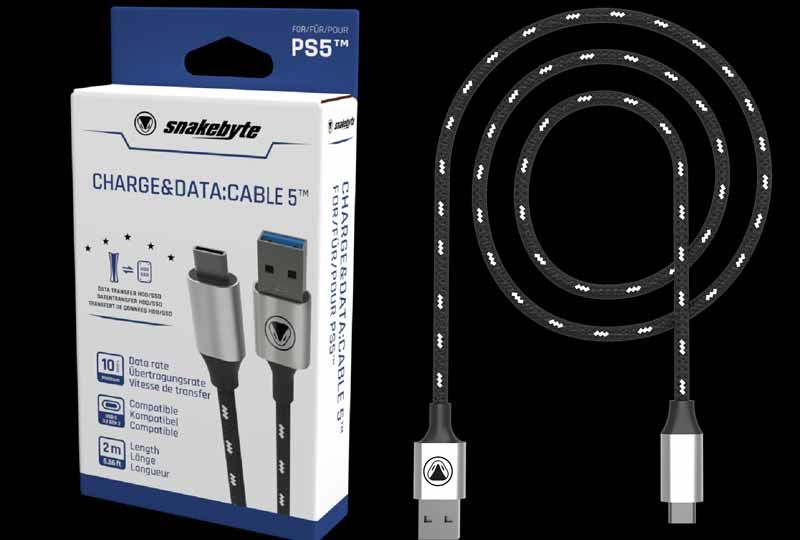 Xbox Series X Accessories
Headset SX
This headset is as nearly the same as the Headset 5. The only difference is the green colour. It also has a detachable mic and 3.5-inch jack. And has the same volume button and hanging apparatus.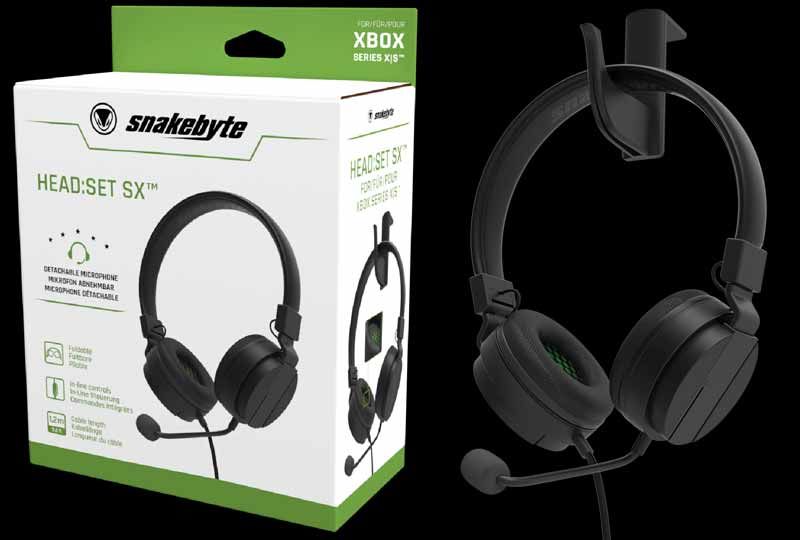 HDMI Cable SX Pro
The cable is ideal for UHD ( 7680x4320px) with its 4K and 8K support. The cable also supports older consoles like One, S and X.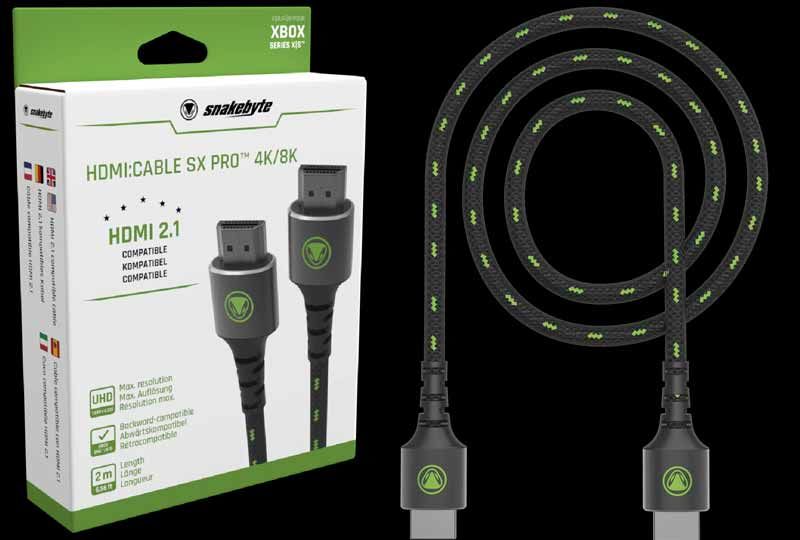 Nintendo Switch Accessories
Arrow Charge S
Even tho Snakebyte works on PS5 and Xbox accessories more, I mostly liked the Switch accessories. With Arrow Charge 5, you can charge up to 5 controllers. Four of them are for JoyCons, and one of them is for the Pro Controller. There is a Pro Controller charging adapter and a 1.2 m cable in the box. Arrow Charge S has five years guarantee. I don't know if my products are faulty, but while I'm charging my controllers, I sometimes saw that charging lights were not on. I needed to move the controllers to continue charging.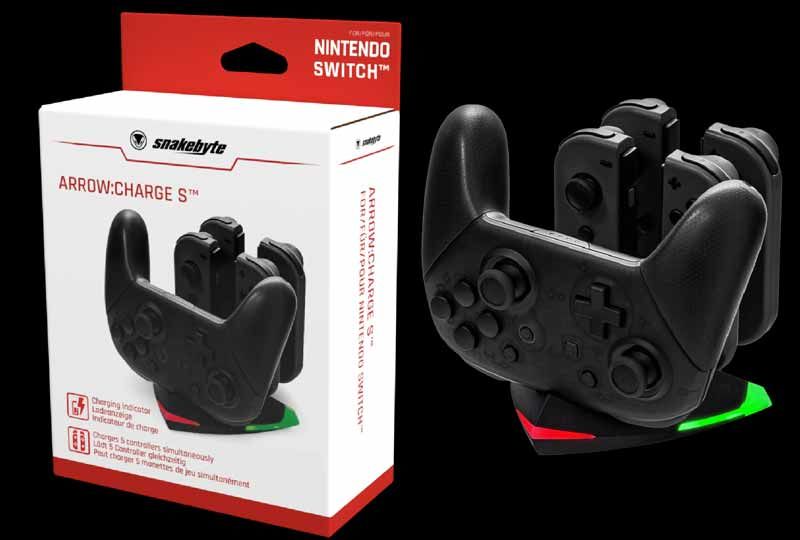 Ring Kit S
This product is produced for the Ring Fit Adventure. The product consists of three parts. Two parts of the product are put on the Ring Fit, and the other one is on our leg. You can easily montage the JoyCon on the leg part. You can also stretch it up to 60cm with its elasticity. These products are washable. So you can easily clean them after sweating.
Snakebyte has lots of products like gaming chairs, gaming keyboards, gaming mouse, etc. To see all Snakebyte gaming accessories, you can visit their official web site bu clicking here.